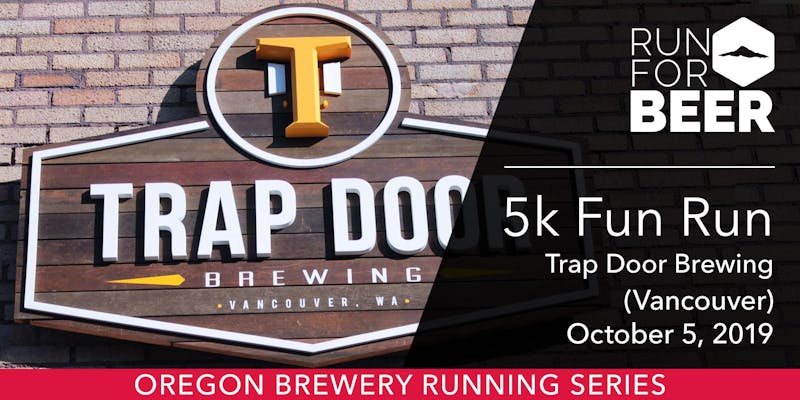 If you still haven't come to a one of the 5k events in the Oregon Brewery Series, October could be your last chance before the weather starts getting colder and wetter. The Trap Door Brewing 5k Fun Run/Walk in the series will be on Saturday, October 5th and it will be a great celebration of beer and running combined into one happy package.
The races in this series are always really fun, low key events that are not timed and no one cares if you run, walk, or crawl to get to the beer at the end. They are also for a great cause, as 10% of the proceeds go to their non-profit partners, The Oregon Brewshed Alliance and Dollar For Portland.
For only $30 (or $40 if you want a shirt included,) you'll get a 5k race, a pint glass or seasonal swag item, and a free beer after the race. There's also raffles and live music on the plan for this race in Vancouver, WA. Grab a bite to eat with your beer and make it into a date with friends or your significant other. This is the ONLY way I can convince my non-running husband to come do a 3.1 mile-ish race!
The race begins at 11:00AM but it's strongly advised that you get there a half hour early so you can have time to park and get all checked in. Carpooling is encouraged, as parking around the brewery is limited.
Please don't forget your ID, as it will be checked if you plan to drink beer. (Registered underage participants will receive a complimentary non-alcoholic beverage.) There will not be a bag check.
Streets will not be closed for the race, though there will be volunteers out there, so thank then for donating their time for your fun and obey all the traffic laws.
The race will happen rain or shine, so be prepared for whatever may come!!
Details:
What: Oregon Brewery Running Series – Trap Door Brewing 5k Fun Run/Walk
When: Saturday, October 5th, 2019 at 11:00AM
Where: Trap Door Brewing (2315 Main St, Vancouver, WA 98660)
Cost: $30 without shirt, $40 with shirt
Register: Here