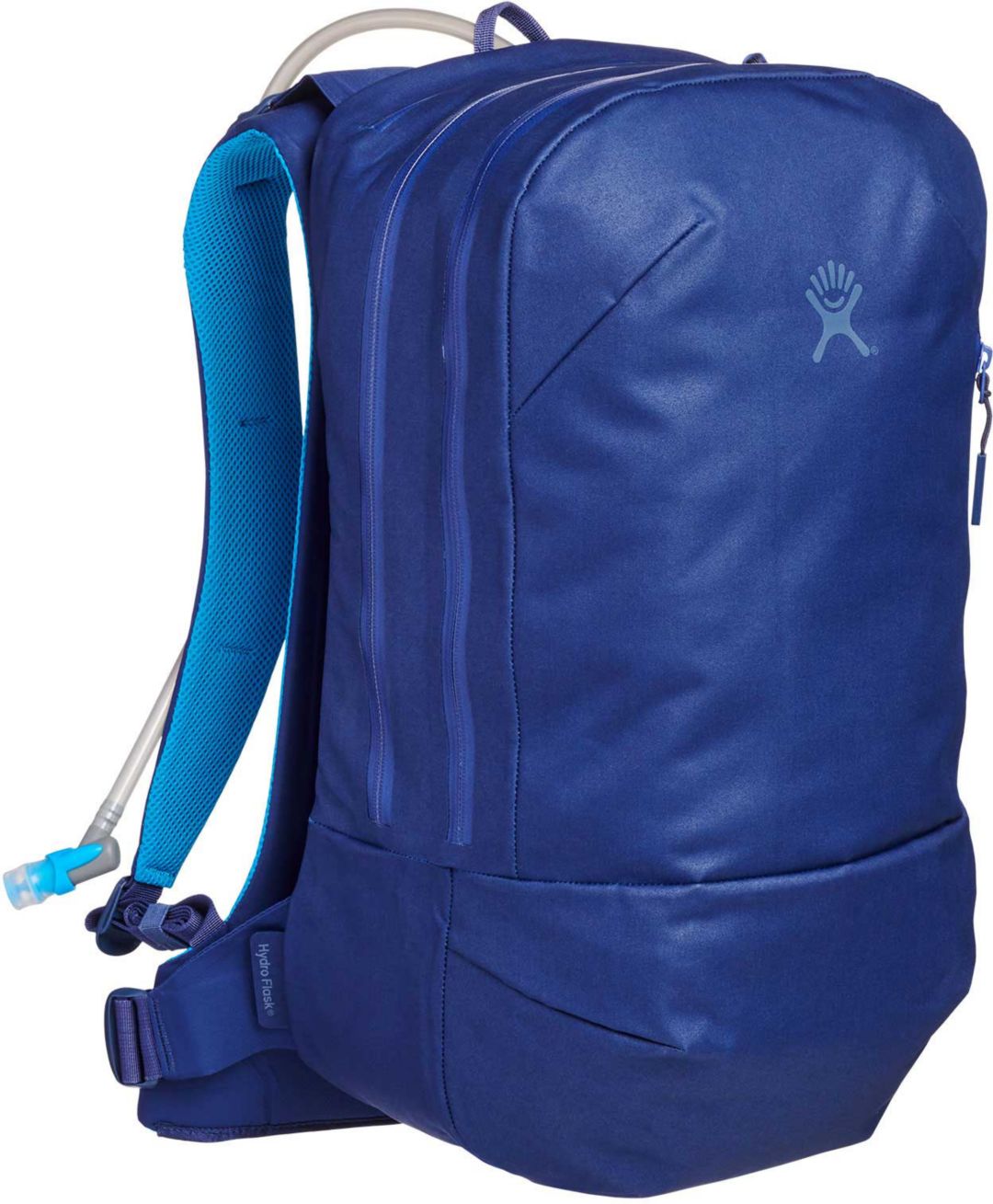 Unless you've been living in a cave, you're probably familiar with the Oregon-based company, Hydro Flask, and their popular vacuum insulated water bottles.  I personally remember receiving my own 21 ounce bottle as a Christmas present about 8 years ago when the company was still relatively new. To this day, that same bottle is my go-to travel companion, accompanying me everywhere.  Since initially being introduced to Hydro Flask, I've always been impressed with the quality of their products and have found them incredibly reliable for all my outdoor adventures. With that being said, you can only imagine my excitement when I was introduced to Hydro Flask's Journey Series 20 Liter Hydration Pack.
The 20 liter pack, made of 300-denier polyester with thermoplastic polyurethane coating, has a sleek, futuristic look to it.  Advertised specifically for (but definitely not limited to) hiking and mountain biking, features of the pack include:
Revolutionary Cold Flow™ system keeps water cold for over 4 hours
Articulated back panel follows the curvature of the spine in one seamless piece for optimal comfort
Molded padded back panel with center mesh for added ventilation
Durable coated waterproof fabric with taped seams and coated zippers helps keep moisture out, leaving your items dry
Puncture, tear, and abrasion resistant, yet lightweight
High-flow HydraPak® Blaster™ Bite Valve self-seals after each sip and features a twist on/off bar to prevent leaks when not in use
HydraPak® Plug-N-Play™ connect system lets you easily disconnect the hose (an auto shutoff valve prevents leaking) and remove the reservoir from your pack for convenient refilling
Removable magnetic hose clip for easy access to water on the move
Webbing for a bike light attachment
Reflective hits for low light rides to and from the trail
I'm an avid hiker, so my first test-run with the pack was a moderate day hike down in Southern Oregon. It was a hot day, but the hike was relatively short so I only filled the 3 liter reservoir up half way. The pack includes two separate internal compartments along with an easy access top and side pocket for smaller items. I went ahead and packed a few necessities; a windbreaker, an extra short sleeve shirt, and some snacks. Initially, I was somewhat disappointed that the insulated pocket that holds the reservoir seems to take up most of the room in the pack, as it is pretty thick and bulky, and unfortunately, there is no option of removing it. I don't think I could have packed any additional items, even if I wanted to. Kind of a bummer, but not a deal breaker as the pack has many other awesome features.
What I really liked about the Journey Series pack was its ergonomic fit. At a whopping 5'1, I have a pretty small frame and luckily the Journey Series pack in the S/M size seemed to fit perfectly with no noticeable rubbing or chaffing. Because of its articulated back panel, the pack itself doesn't rest directly on my back, but rather, is suspended just slightly off my back allowing for optimal ventilation. Adjustable straps at the chest, shoulders, and hips make for an even more tailored fit.
After a solid 3 hours on the trail, my water was still refreshingly cold. I appreciated the self-sealing bite valve and twist on/off bar, which meant no leaks. Overall, I was quite impressed with the pack and loved how lightweight it was. One feature I'm really looking forward to testing out is the pack's thermoplastic polyurethane coating.  As someone who relies on public transportation in the PNW, I'm kind of excited at the idea of using the pack as a commuter bag to get to and from work on those stereotypical PNW rainy days.
---
Company: Hydro Flask
Product: Journey Series 20 Liter Hydration Pack ($200.00)
More about Hydro Flask:
Every hour of engineering that goes into each Hydro Flask product we make— it's all for one thing: to be part of the moments that make life more fulfilling. That's how we design each product in our line today—always premium, always better than anything else we've ever used, and never lukewarm. From our original 18 ounce bottles to our award-winning soft coolers, we want you to love every Hydro Flask product you ever own just as much as we loved perfecting it. Because for us it has never been just about making something, it has always been about making something awesome.

Founded in 2009 in Bend, Oregon, Hydro Flask is the award-winning leader in high-performance insulated products ranging from beverage and food flasks to the new Unbound Series Soft Coolers. Inspiring an active and joyful life on the go, Hydro Flask innovations showcase TempShield double-wall vacuum insulation to lock in temperature, 18/8 stainless steel ensuring pure taste and durable, ergonomic design for the ultimate trusted sidekick.
Thank you to Hydro Flask for providing us with some a sample item. Please read our transparency page for info on how we do our reviews.