Kegs & Legs Partnership: Oregon Brewery Running Series & Ordnance Brewing (Check out the race on August 4th!)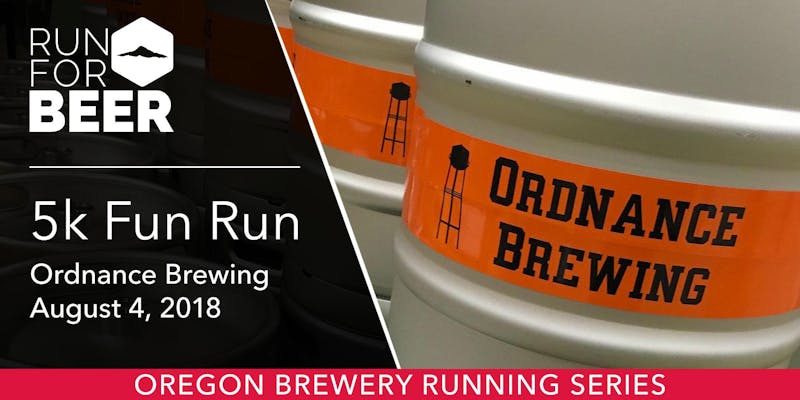 I love beer. After now having visited over 400 different breweries, it's fair to say I have sampled a lot of beer (follow me on Untappd). From post-race pints and run club meeting locations, to beer miles and relays, running and the kegged nectar seem to go hand-in-hand in Oregon. Our Kegs and Legs feature is where beer & cider drinking runners like me can go to find some new favorite beverages. Check out previous posts here!
Coming up THIS WEEKEND, is race number 8 of the 2018 Oregon Brewery Running Series – held at Ordnance Brewing in Wilsonville. Here are some highlights from our race preview:
This is THE race for participants who enjoy a good time, love running 5Ks and those who love a good beer. On August 4th, 2018, at 11:00 am, participants will walk, run, stroll along an open course.

Every single participant is a winner in this race! Every racer will receive a yummy beverage of choice from Ordnance Brewing. They will also be given a seasonal swag item from OR Brewery Running Series, or a collectors pint glass, along with other fun Items. 10% of The Oregon Brewery Running Series events proceeds go to support

Oregon Brewshed Alliance

, 

Dollar For Portland

, and 

Life Vest Inside

.
My first stop at Ordnance was in their main brewing facility in Boardman, OR. Yes – that Boardman! This Eastern Oregon brewery is farmer owned and operated – creating an old school mentality, combined with a modern touch.
With roots growing back to the early pioneers who cleared the land to grow fruit, corn, wheat and yes…hops, our founding partners come from a long line of Oregon farmers. The Coleman family landed in the Willamette Valley in 1849 and soon purchased a plot of land to farm near McMinnville. After pocketing a little change from the California Gold Rush, the family purchased land near St. Paul and from there spread across the valley and up the Columbia Gorge in the following century. Cousins can be found all over the Pacific Northwest with ties to prominent hop farms including Coleman Hop Farm, 3D Farm / BC Hop Farms among others.
In fact, a lot of their beer's ingredients can be found in their beers.
Craig Coleman, our managing partner, grows a variety of crops in the Columbia Plateau including blueberries that can be found in our Bloops.
I recommend making a pitstop in the brewery and taproom in Boardman. It's been a few years since I have been out, but it was quite cool. They have a huge warehouse where the magic happens, and a little taproom to enjoy stuff fresh off the kegs. The clientele was pretty standard for Eastern Oregon – a lot of farmers and blue-collar workers looking to enjoy some of that area's finest. How's this for a tagline:
Today, Ordnance Brewing is an outlier, a brewery out past the far edges of Pacific Northwest population centers, far from the region's corporate breweries and dense brewer communities – smack dab in the middle of a beer desert.  As such, there are no predetermined expectations, no unspoken rules or formulas to be accountable to. It's the freedom found in the wide-open spaces of the Columbia Plateau and expansive farmland. In this remoteness, we brew freely, with an innovative spirit, a farmer's work ethic, the creativity of someone living off the land and a vision to make beauty out of little. The owners, brewer and brewery itself are on the fringe, uninhibited, driven to work together for a unified mission: Brew distinct, honest and simply enjoyable beer.
[/caption]
A few years ago, they expanded to option up a taproom in Wilsonville (just a bit west of I5) called Neighbor Dudes – a descriptor they used when the owners were home brewing – before fully switching the name to Ordnance. It's a nice little location with plenty of seating and open space, some basic food options, and screens for watching games and events (I watched a bit of the OSU Baseball National Championship game last time I was there). It should be a fine location for post-run imbibing!
Don't forget to  register for the OBS race on August 4th and check out the cool stuff going on at Ordnance (I highly recommend Bloops as a great post-race option).
When: August 4th, 2018 11:00 am- 1:00pm

Where: Ordnance Brewing, 9740 SW Wilsonville Rd, # 200, Wilsonville OR 97070

Registration cost: $40.00 entry + tee shirt, or $30.00 for race entry