Imagine this. It's a warm, clear summer Saturday evening. You are feeling tired after a long work week, but you decide to get a short run in as the skies start dimming a little bit. You don't need a long run, just a short 3-ish miler to stay fresh. Afterwards, you are thinking you may take in a glass or two of wine (or beer) and some local faire to refuel – it is Saturday evening after all. What would make this night perfect is sharing it with some of your friends, and laughing and chatting with a Pinot Noir in hand watching the sun fade away over the distant hills.
Sounds nice, doesn't it? Well, if you register for the 8th annual Silvan Ridge Twilight 5k, you can make this dream a reality.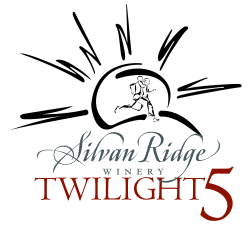 This event takes place at Silvan Ridge Winery, a gorgeous estate in the hills about 15 miles SW of Eugene. The race itself is pretty simple and straightforward – an out-and-back on the rolling rural Briggs Road the surrounds the winery on two sides. If you take a gander at the race course and Google Maps, you will see that the views are quite impressive. There will be awards to the top three overall male and female finishers as well as top-3 in age groups. After the event, stick around for what should be a fantastic evening – I mean who doesn't want to kick back, sip wine, enjoy some local eats, and take in some live music while the sun sets over the grape vines (cue dream sequence again).
The race benefits the Jane Higdon Foundation, a memorial fund that is in remembrance of Ms. Higdon, who was struck and killed by a truck on a training bicycle ride in 2006. This fund goes to scholarships and grants to encourage and empower young women and girls to pursue active lifestyles and academic excellence, as well as makes donations to non-profits in Lane County that advocate and works for bike and pedestrian safety. Even if you can't make it out, consider making a tax-deductible donation – your money will go to a fantastic cause and may change, or save, a life in the process.
---
Silvan Ridge sent us a few wines to check out for our Kegs & Legs feature – a 2016 Malbec and a 2017 Sauvignon Blanc. These aren't the most common of wines that I drink, but I am all for increasing my knowledge and palate with new styles.
I do know that a Malbec is a specific purple grape variety and one of the six that are allowed in Bordeaux red blends. The taste was pretty robust in my mouth – much more a full-bodied red than other stylings (such as a Merlot) – and wen't absolutely perfectly with my recent backyard steak barbecue evening. The Silvan Ridge winemaker, JP Valot, a native Argentian with a ton of winemaking experience describes this as "an Oregon wine with an Argentine soul." Be prepared for a "lush nose laced with boysenberry and cocoa. Soft yet concentrated on the palate, with additional flavors of black cherry, vanilla, and cardamom."
On the seemingly other side of the wine spectrum is the Sauvignon Blanc. My wife generally goes for Pinot Grigio and noticed that Sauvignon Blanc was a little lighter on the palate than her usual (not in a bad way). This is one of Silvan Ridge's newest offerings and it really feels like it would be quite nice for a post-race treat. The aroma is very flavorful and, while I am not a wine expert, I pulled out some nice citrus (lemon lime and perhaps some orangy notes). Silvan Ridge also adds in that the taste can also achieve some pear, freshly cut grass, and goose-berries.
---
In addition to the 5k event in August, they are also a part of the Grapes of Half race, put on by Pink Buffalo Events each May, and home to the Run Momma Run Winery Run and Brunch as well. How did so many running events end up at Silvan Ridge? Well it may be due to their staff.
Cathie Twomey Bellamy, the tasting room manager, is a former professional runner and current coach at Eugene Running Club. She was an All-American runner at the University of Minnesota and is in their state Hall of Fame. She also qualified for four Olympic Trials and was in three USATF Olympic Trials finals. Her resume is crazy impressive and we encourage you to read more here. We also encourage you to head out to the winery and sip and chat with a running legend at the same time.
If you aren't available for the race on August 18th, consider heading out to their Summer Concert Series, held every Friday this summer. The tasting room is also open every day from 12p-5p, so there are plenty of opportunities to check out the grounds throughout the year.
 Silvan Ridge Twilight 5k (Eugene)
When: 6p on Saturday, August 18, 2018
Where: Silvan Ridge Winery
Register: Online here; $25 (includes logo glass); Add $10 for shirt; Add $5 DOR