Here at Run Oregon we get the opportunity to try out a variety of running related items. We thought we'd share some of our favorites with you to help you with your Christmas shopping or Christmas list creating.
Annette: One of my favorite items is a must for winters in the Pacific Northwest – the DryGuy Force Dry Shoe and Glove Dryer. After a rainy day run, I just throw my soggy shoes on the Force Dry and turn it on for 1-2 hours (depending on how wet my shoes are.) My shoes are always 100% dry and ready for my next run. After I'm done, I just fold the Force Dry down and put it away until I need it again. I absolutely love it. You can read a more detailed review that I wrote earlier this year here. The Force Dry sells for $50 at the DryGuy website and can also be found on Amazon.
---
Matt: We reviewed a bunch of running apparel in 2017, but one of my favorite and most worn review items is actually not completely running related at all. The Men's Distance Sweatshirt by Brooks is a perfect combination of comfort, style, and function. While the true miserable weather hasn't hit yet, this top has been a staple in the chilly temps we have had lately. It is heavy enough to keep me comfortable, yet not too heavy that I overheat. Though it's not a running top, it definitely does the job before AND after a race. Check it out for $60 at Brooks or their hoodie option for only $34 on Amazon!
---
Nikki: Trail running has become the cool thing to do, and there are a lot of options out there as far as trail running shoes go. I was pleasantly surprised to see how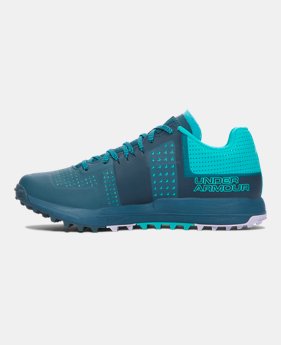 much Under Armour has stepped up their game when it comes to their gear, especially the UA Horizon RTT Trail Running Shoes that I was fortunate enough to get to test out. After a few short runs around on the trails of Portland, I was sold enough on them to take them for a spin on a trail relay at Mt Bachelor and then for a half marathon up Copper Mountain, CO for two of the Under Armour Mountain Running Series races. These shoes performed beautifully. They aren't heavy like some trail shoes but they felt good on my feet. The traction on the bottom did a great job gripping the rocky terrain and the shoes hugged my ankles and kept all the debris out without being constrictive. I had some serious hills to tackle as well as some single track trails in rain and mud and I never felt like these shoes were going to fail me in any way. I forget all about my feet when I wear these, which is the ultimate compliment. These are my favorite trail shoes by far.