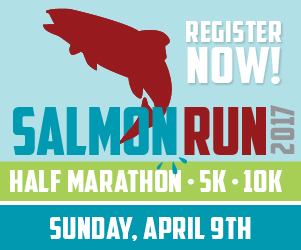 There's not too many places anymore you can go to find a half marathon for only $40. The 2017 Salmon Run is in its 29th year (!) and is a staple in Central Oregon. The event hosts a 5k and 10k in addition to the half and will feature beautiful paved & trail courses alongside the Deschutes.
The half course will start by heading south from the Old Mill District and following the trails past the Mt. Bachelor Village Resort before circling around and heading back to the start. Runners will venture for a miniature loop north of the Armory before the finish. For what it's worth, these are probably my favorite trails to run when I am in Bend. They are super well-maintained on the paved portions and allow you to put in some good miles while still remaining in civilization (for when I am on a time crunch).
The 10k course follows a similar path, but won't go as far south and also won't head up to Drake Park. The 5k course will forego the southern portion and just complete the northern loop. Additionally, there will be a "Little Fry Run" beginning at noon for 3-10 year olds. The cost is only $5 with an adult entry and everyone will receive a ribbon.
The race benefits The Environmental Center, a team of educators and advocates who teach children (and adults) about enjoying and protecting our natural world. The Salmon Run is part of the Oregon Half Series.
Follow Lay it Out Events on Facebook.
2017 Salmon Run (Bend)
When: Sunday, April 9th. Half starts at 9am; 10K starts at 9:15am; 5K starts at 9:30am.
Where: Armory at Old Mill District
Register: Online here; $30 for 5k, $35 for 10k, $40 for Half (add $5 to each at packet pick-up and race day; Add $20 for shirt