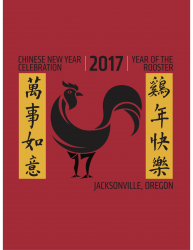 The Chinese Zodiac runs in 12 year cycles, with each new year corresponding to a certain animal. The story goes that the animals ran a race, and the zodiac cycle follows their order of finish: rat, cow, tiger, rabbit, dragon, snake, horse, sheep (sometimes goat), monkey, chicken, dog, and pig.* After the Chinese New Year in 2017, which is January 28 this year, it will be the year of the chicken (rooster). Thus, the Southern Oregon Chinese Cultural Association in Jacksonville celebrates this annual tradition with, quite appropriately, a race. Now in its tenth year, 2017's edition of the race is the Lucky Rooster Run.
* A few things you may be wondering, or at least, I did when I first heard about the zodiac race. The rat won the race by cheating; it hitched a ride on the cow to get across the river, and then right as they reached the finish line, the rat jumped off ahead of the cow. One would have expected the dragon to win, but the dragon stopped to help some nearby farmers. (In Chinese mythology, golden dragons are wise and good.) And there is no cat in the zodiac because the cat DNF'd the race. The cat was good friends with the rat and also hitched a ride on the cow, but  halfway across the river, the rat – wanting to win – pushed the cat off, which is why cats now hunt rats.
The chip-timed 5K is described as a fast, out and back course through local neighborhoods, starting at the Bigham Knoll Campus. Race day is February 18, at 9:00 a.m. The race fee is $17 ($10 for 18 and under), plus $12 if you want the race shirt. Per the race website: "All participants receive a Lucky Rooster charm. Top 3 male and female winners receive great prizes donated by Harry & David, top 3 in all age groups receive ribbons."
Lucky Rooster Run
When: February 18, 2017, at 9:00 a.m.
Where: Bigham Knoll Campus, 525 Bigham Knoll Drive, Jacksonville, OR.
Register: Online here ($17 for adults 19 and older; $10 for 18 and under; adult price jumps to $25 for DOR registration; race shirt is $12 extra).