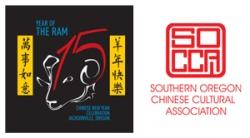 On Saturday February 7th, 2015 come help kickoff the Chinese New Year with a 5k Fun Run. The Rambunctious 5k Fun Run will launch a full day of activities in historic Jacksonville Oregon. The race is an easy 5K Run on paved roadway and portions of the 'Rails to Trails' path through Jacksonville, come out and celebrate Chinese New Year 2015 – The year of the ram.
Starting at Bigham Knoll Campus in Jacksonville, OR the course is through beautiful historic Jacksonville, and will start off a full day of events including: Chinese New Year Parade, Cooking demonstration/sampling, Brush Calligraphy, Kung Fu, a movie and more! All runners are invited to walk in the parade (line-up at 10am on Main St, parade starts at 10:30) all race finishers can walk in the parade with the "race pack", complete with race banner and free RAM HORNS. Too much to resist for a kid, and this parade is amazing, complete with enormous dragons, many marching bands, and much more.
Register online until 2/5 and before 1/31 for a T-shirt, there will be day of race registration as well. Packet pickup and day of race registration will be from 6:45 – 7:30am at the starting area. Proceeds will go to the Southern Oregon Chinese Cultural Association. This is a great run for the whole family with post race breakfast goodies including hot chocolate and coffee. There will be raffle prizes following the race, and ribbons will be awarded to the top 3 male/female finishers in each age group. Restrooms available, and absolutely no rollerskaters, bicycles, skateboards, baby joggers, or dogs.
What: Rambunctious 5k Fun Run
When: Saturday, February 7th, 2015 8:00am
Where: Bigham Knoll Campus, 525 East E St. Jacksonville, OR 97530
Register: Online here
Cost: $10 and $10 for shirt if purchased before 1/31 online.