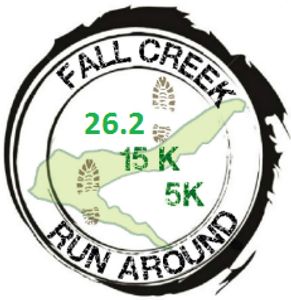 The Fall Creek Run Around races will take place on Sunday, October 3rd at the Winberry State Rec Area in Lowell, Oregon (click for map). The marathon loop starts at 8am, shuttles for the 15k depart at 9am for the 9:30am start of the point to point course at Cascara Campground, and the 5k out-and-back starts at 9:30. Race organizers ask participants and spectators to please have a mask or buff with you at all times and wear it when six feet distance is not possible.
The marathon loops around the entirety of Fall Creek Lake on paved and packed dirt paths with six aid stations along the way, the 15k runs on pavement the latter 9.3 miles of the marathon course, and the 5k course takes you out and back along the south shore of the lake.
Registration is open. The cost for the 5k is $30, the 15k $40, and the marathon $70. Youth under 18 and seniors over age 60 enjoy a $5 discount. Race entry includes a breakfast burrito at the finish line. Long sleeve shirts are available for purchase for $14. You can register online or by downloading and printing the registration form and following the directions for in person registration.
DIRECTIONS:  From Eugene: Take I-5 to Hiway 58 (Exit #188 towards Oakridge). Go 13.4 miles on Hiway 58. Turn left (north) at the covered bridge heading toward Jasper/Lowell Road, following signs to Fall Creek Reservoir. Go 1 mile into Lowell and turn right at the "Market & Gas Station." Go 1.8 miles from the Market to Big Fall Creek Road. Turn right on Big Fall Creek Road, and then another right on Winberry Creek Road and proceed  to Winberry Park, following the signs to the parking area.