2018 Oregon Brewery Running Series #4 – Stormbreaker Brewing (Portland)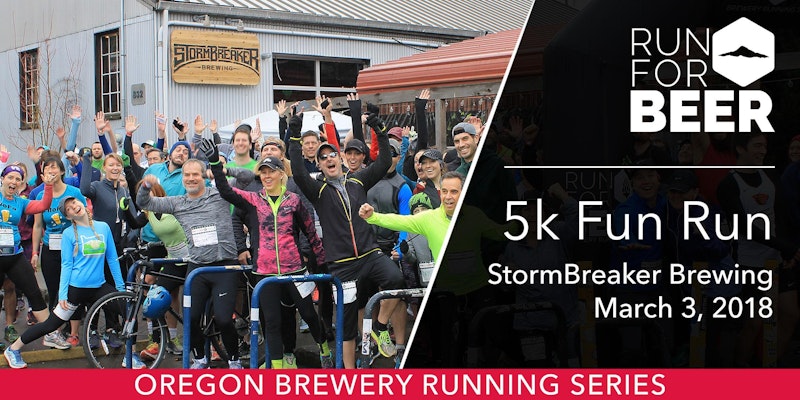 The fourth run in the Oregon Brewery Running series takes place at Stormbreaker Brewing in North Portland on March 3rd, 2018 at 11am. This brewery is right on the famed and popular Mississippi Avenue, and though the course is yet to be posted (as of this writing), it will be interesting to see what they come up with. We foresee a out-and-back down Mississippi, or perhaps an Interstate/Mississippi loop. Don't quote us on those, but we see less road stops being necessary if those are selected.
I asked Matt to give me his thoughts on the location (as he has been EVERYWHERE brewery-related in the State. Here are some quotes:
I remember when this spot used to be owned by Amnesia Brewing back in 2013. StormBreaker took over this spot pretty immediately when Amnesia decided to focus their sights on a location in Washougal. It's a great location, but parking can be a bear depending on the time (lunchtime on a Saturday may necessitate some walking or arriving earlier). You could do worse things than hang out on Mississippi to kill time. I'm pretty excited that StormBreaker is in the process of remodeling a new location for an eventual move to the St. Johns area. St. Johns has only a few breweries (Occidental & Royale being the main ones), so Stormbreaker should find a cool niche over there.
As a reminder, there's no time clock and no awards, so have a good time on the course and join the group afterwards for a free drink and giveaways from the brewery and the race series.
Oregon Brewery Running Series – StormBreaker Brewing
When: Saturday, March 3; 11am
Where: Storm Breaker Brewing (map)
Registration: online here. $30 without shirt; $40 with shirt.