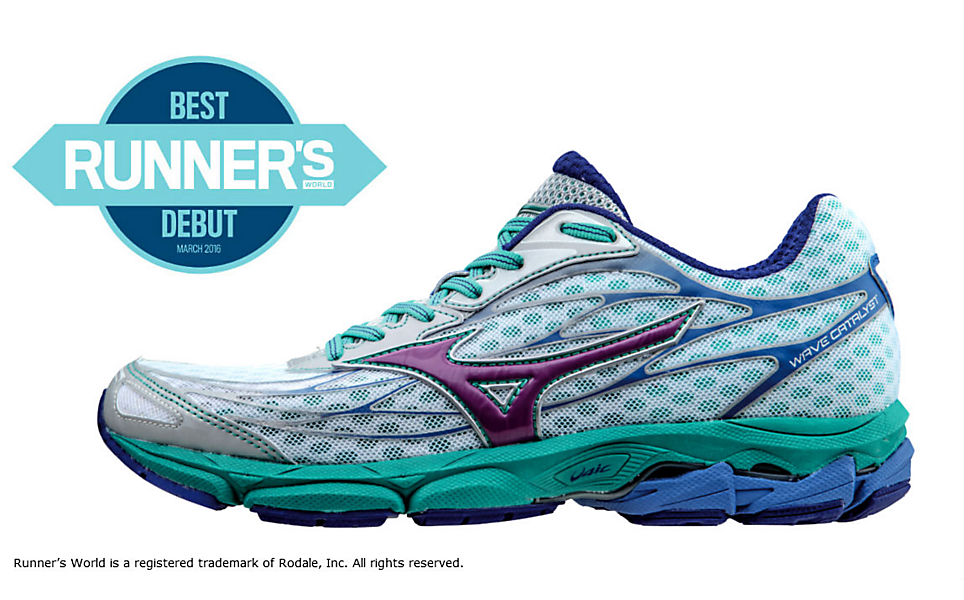 As a runner that wears support shoes, I'm often hesitant to try out new shoes. When Matt told me that he had a pair of "lightweight support" shoes from Mizuno, I was cautiously intrigued. I ran my first marathon in a pair of Mizuno Wave Inspires and have always thought they had a nice balance of a wide toebox and a snug heel. So I was pleased to find that the new Mizuno Wave Catalyst followed that style.
They do not look like a support shoe. If you are used to support shoes looking bulky with a built up midsole, you will be surprised how trim these shoes look. And they're pretty. Very, very pretty. The blue web design (which I learned has a name: the Pebax Fan Wave) on the side makes me think of the jetstream or wind rippling the surface of a lake. This design adds structure to the shoe, sort of like an exoskeleton. 
The shoes are light at only 8 oz., compared to my usual shoes which weight in at 9.2 oz. They are also quite comfy with a roomy toebox and a fitted heel with which I didn't even need to lacelock (although I did, because I like to lace my shoes loosely and using the last eyelet lets me slip them on and off without changing the tension). The laces that came with the shoes are long enough to lacelock and a mainly flat style that stays tied even without double-knotting.
Heading out for my run, my first thought was that the shoes were a little stiff right out of the box, so I could hear my feet slap-slapping as I ran. It didn't interfere with my stride or feel uncomfortable, but it was definitely noticeable. (After a few runs in these shoes I didn't notice it as much and they seemed to soften up a little bit.)
My second thought was that I should make these shoes my new race shoes. I'm refocusing my running goals towards shorter distances (to align with my other goal to return to pre-baby weight) and look forward to some speed workouts in these.
As mentioned, the heels fit nicely and there was absolutely no slipping or rubbing and no hot spots. This was doubly impressive as about a half mile into my run, it started to pour and I spend the next five miles completely soaked and feeling like the rest of my clothes had been vacuum-sealed to my skin. As you can see from the photo above, I wear short socks when running, and felt no rubbing or friction from the collar or tongue. On that super-soaker of a run, I got bonus chafing from my sports bra but none from the Mizuno Wave Catalyst!
I would say these shoes ran true to size; I wear a 7.5 in dress shoes and always go a full size larger for running shoes. The 8.5 for these felt like the right size. They do come in narrow, and I could easily see how someone with fat sausage toes like mine would prefer a slightly more narrow toebox. Even though I don't need a wide shoe in my street shoes or running shoes, there are certain styles I just don't wear because they tend to fit too narrow; other shoes I find that the wide actually fits better. So if you have average to wide-ish feet you would probably be okay with these.
Learn more about the Mizuno Wave Catalyst online here or check them out at a locally-owned running shoe store near you. They are listed for $110 on the Mizuno website; there are two other colors available: a bold blue with deep pink/salmon color and a pink with bright orange and silver. (I still like mine the best, though.)