The Oregon Brewery Running Series is excited to announce their eighth season of 5K fun running and walking events that start and end at some of Oregon and SW Washington's best breweries, cideries, and wineries. Fresh off the heels of their seventh season in 2022, they are back for 22+ events in 2023. 
Combining the trends of craft beer and "fun runs," the series is designed to showcase local breweries and neighborhoods throughout Oregon and Southwest Washington. 
Participants walk, jog, or run approximately 3.1 miles, then enjoy a celebratory beer, cider, or wine, at the designated location. Everyone is invited to enjoy the day's entertainment which includes live music, great food, prize giveaways and opportunities to interact with partners and sponsors. Everyone receives 1 complimentary craft beverage and a collector's pint glass or seasonal swag item and other goodies.
The series also focuses on building community. With smaller crowds of 75 – 175 people, the Oregon Brewery Running Series events aren't your typical 5k races that shut down major thoroughfares as speedy racers blast to the finish line. Rather, team members and brewery staff come together to create a casual, comfortable environment for runners and beer drinkers alike, celebrating healthy lifestyles and community.
It's all about partnership
In addition to supporting local breweries, the Oregon Brewery Running Series is committed to helping the community through local nonprofits.
10% of proceeds from all Oregon Brewery Running Series events benefit the Oregon Wild, The Oregon Food Bank, Big Brothers Big Sisters PNW, Dollar For, and other local non-profits that vary per event.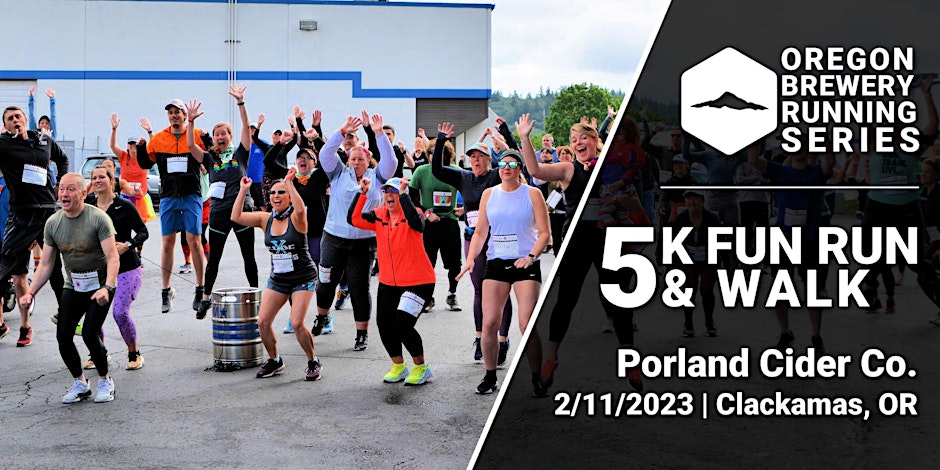 The 2023 Kickoff & Schedule
Last month, they hosted their MINIBrewfest kickoff event at Portland Running Company's NW location – the "Run Pub." Participants were treated to beer samples from participating breweries, light snacks, and special discounts on running gear, and other goodies. 
They will be at the following locations this winter, spring, summer, and fall:

FEBRUARY
MARCH
4th – Von Ebert Brewing

18th – Oregon City Brewing
APRIL
MAY
6th – Xicha Brewing (Salem)

20th – Trap Door Brewing (Vancouver, WA)
JUNE
3rd – Gorges Beer (Cascade Locks)

24th – Crux Fermentation Project (Bend)
JULY
1st – Fort George Brewery (Astoria)
8th – Threshold Brewing & Blending
AUGUST
5th – Mazama Brewing (Hillsboro)

27th – Abbey Road Farms Wine Run (Carlton)
SEPTEMBER
16th – Ferment Brewing (Hood River)

30th

 – Ninkasi Brewing (Eugene)
OCTOBER
7th – Breakside Brewery

14th – 54°40′ Brewing (Washougal, WA)

28th – LEVEL Brewing
NOVEMBER
11th – Grains of Wrath (Camas, WA)
The detailed 2023 calendar can be found here.
Registration is $35 per event; all participants receive 1 local beer, seasonal merchandise or collector's glassware as well as the opportunity to partake in brewery tours, product demos, special giveaways, and a special invitation to enjoy the days' scheduled festivities: live music, food, yard games, etc. 
Be Active. Have Fun. Give Back!