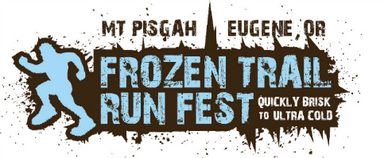 Level 32 Racing kicks off the final event in the 2022 Run Big Trail Series (RBTS) on Saturday, December 3rd, 2022 at the beautiful Mt. Pisgah, in Eugene.
The Frozen Trail Run Fest is the last opportunity in 2022 to add points to your RBTS standings. It's also an event that has had great feedback in prior years. A wonderful feature of the Frozen Trail Run Fest is the varying amount of distances that are being offered for us trail runners to take advantage of; this very well is the last event many of us will run for the 2022 racing season!
Yes, there are a plethora of options to choose from. You may want to test your training and racing from the 2022 season and enter the 50k ultra distance. This course will take you on a wonderful journey of Mt. Pisgah, which is a spectacular oasis just outside of Eugene. The 50k will have 4 loops, with each loop having total ascent of 800-1,000 feet each.  The 25k is comprised of 2 loops , also gaining 800 to 1000 feet of elevation. The 15k course looks equally as majestic, with 1 loop climbing 900 feet in elevation. There's also the exceptionally challenging 5k course,  which goes very vertical between the 1.2 and 1.9 mile point. Aid stations are marked on each distance map, and will have first aid, water, GU Brew, GU Energy Gel, and light snacks.
Your race conditions underfoot will likely be wet and/or frozen paths. 50k ultra runners will have a course time limit of 8 hours to complete the journey, and all race distance courses will close at 4:00PM. Race start/finish line are located at Buford Park, Mt. Pisgah, which is located just off I-5 south of Eugene at exit 189. It's very easy to get to, and just off the highway.
This proves to be a challenging, yet gorgeous finale to the 2022 Run Big Trail Series. Strongly consider adding the Frozen Trail Runfest to your race calendar and test your 2022 training and racing one last time before the New Year!
Details:
When: Saturday, December 3rd, 2022. 50k at 8:00AM, 25k at 9:00AM, 5k at 9:15AM, & 15k at 9:30AM
Where: Howard Buford County Park/Mt. Pisgah, Eugene, OR
Cost: $60 for 50k, $45 for 25k, $25 for 15k, and $30 for 5k. $5 discount for seniors (60+) and youth (17 & under)
Register: Here
Packet Pick-Up: Race day at the start/finish line. 50k ibibs will be available at 7:00AM