Within the past few weeks, our weather has definitely taken a turn for the cooler. After a summer and fall of warm temperatures, I really didn't get around to thinking about cold weather gear until recently. But, alas, it's been too frigid lately to think of much else.
We reviewed a few tops from Kora recently, and the Yardang Shirt is one of the newest in their arsenal and a part of the expansion of their Yardang Collection – a collection of apparel that combines yak wook with superfine merino. Although there are other companies making apparel from yak wool, Kora is sort of the pioneer in using it for performance sphere.
More about Kora:
Himalayan nomads have been wearing yak wool for centuries, but we're the first company to develop this astonishing fibre into high performance technical fabrics for outdoor adventurers.

Unlike some outdoor clothing brands, we don't buy our fabrics. We make them. We've spent years perfecting our fabrics through our in-house development programme Hima-Layer – and we design our clothing with the same meticulous attention to detail.

Our garments are tested extensively in the laboratory and in the field. Our Adventure Ambassadors have trialed our gear in a wide range of environments, including a ski tour in the Alps, an expedition to Arctic Greenland and a cycle trip across Europe.
The Yardang Shirt is not the typical mid-layer that Kora excels at, but is instead a button-up long-sleeve overshirt that is designed to be a standalone item. Obviously, the construction is geared for active PNW runners, with it's temperature-regulating properties and breathability. When you toss in the comfort and design of the top, you get a top that is worth the expensive price tag.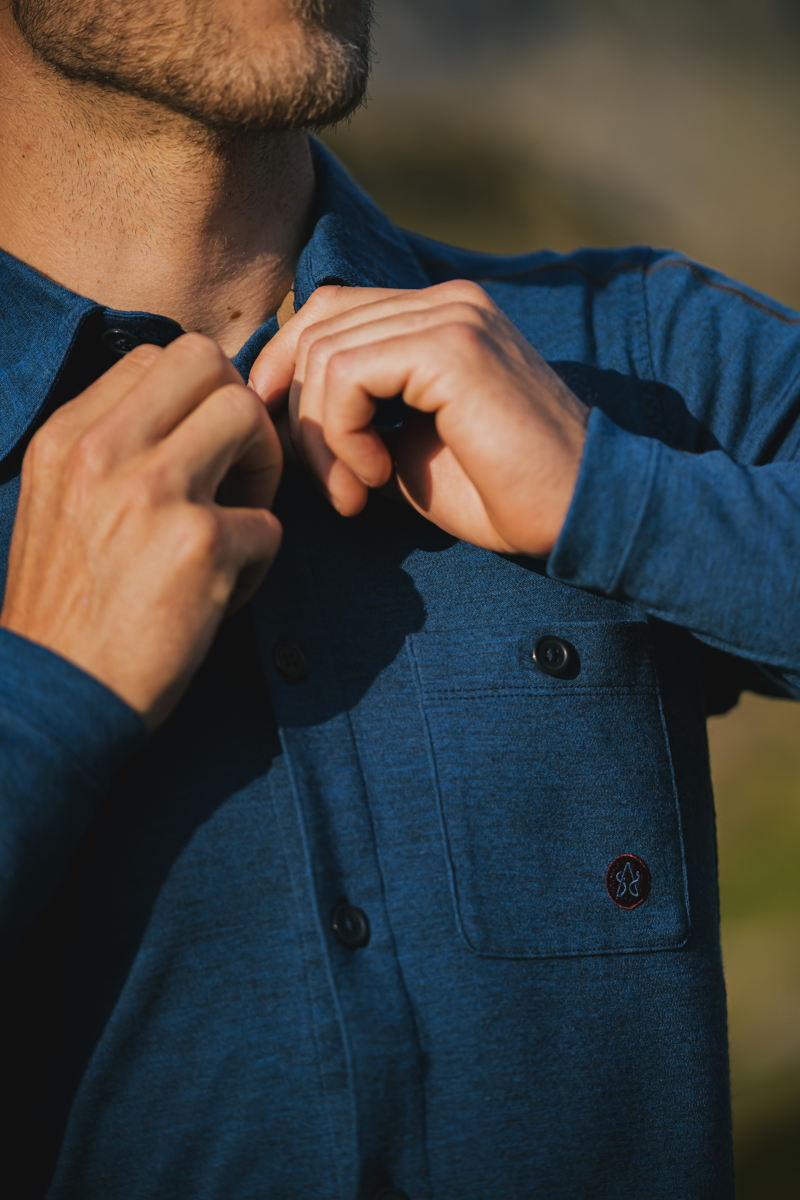 I envision being able to use this as a top to wear out and about, on a hike, or as a casual top in. The collar can lay flat or be "popped" (a la the 2000's style trend) to provide warmth around the neck. However, don't sleep on this only being a winter-option – I fancy that it will be equally wearable on cool summer and fall evenings, and perhaps even a staple on summer trips to the Oregon Coast.
The Yardang Shirt does fit a little slim and definitely size up to get a more desired fit.
There is only one color – a lake (i.e. royal) blue with a small logo on the closeable chest pocket and the trademark vertical stripe that Kora uses – a depiction of the Himalayas and the colors of the locals Tibetan prayer flags.
Kora also has their "Live & Love" policy – a 35 day guarantee – with an extension for the Christmas season. Whether you want this for yourself or as a gift, this guarantee allows you til the end of 2022 to determine if it is right for you!
---
Company:
Products & Price:
Yardang Shirt ($170)

70% superfine merino and 30% yak wool
Lake Blue
Thank you to Kora for providing us with samples. Please read our transparency page for info on how we do our reviews.