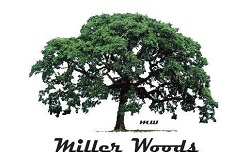 True cross country races are not as easy to find as road races. For those that enjoy a forested back drop and single track trails, the Miller Woods 10K on October 9th outside of McMinnville Oregon is a potential slice of (hilly) heaven. This has been a recurring event for several years, put on by local runners and those who run the park, to benefit the Miller Woods Conservation Area fund. As this is my previous hometown, I can personally recommend this to be a great event for a good cause.
The race course contains no pavement, with a majority traversing single track trails of packed dirt and bark dust and a couple wooden bridges. There are a couple sections of grassy field, so watch your footing. As it is located in the foothills of the coast range, it is definitely not a PR course. With several steady hill climbs and a few switchbacks, the course is more about determination than outright speed. Depending upon the weather, puddles or mud could be possible.
Chip timing is provided by Eclectic Edge racing and registration is currently open here. At this point is in the 'late registration' time frame, so entries are $55. So if you are looking for a great add to the the fall running schedule, add this to your calendar. As it is a bit out of the way for most people, consider getting brunch in McMinnville at one of the great eateries in the historic downtown area.
Miller Woods 10k
When : Sunday, October 9th, 9am
Where: Miller Woods, outside of McMinnville
Distance: 10K
Registration: $55, open here