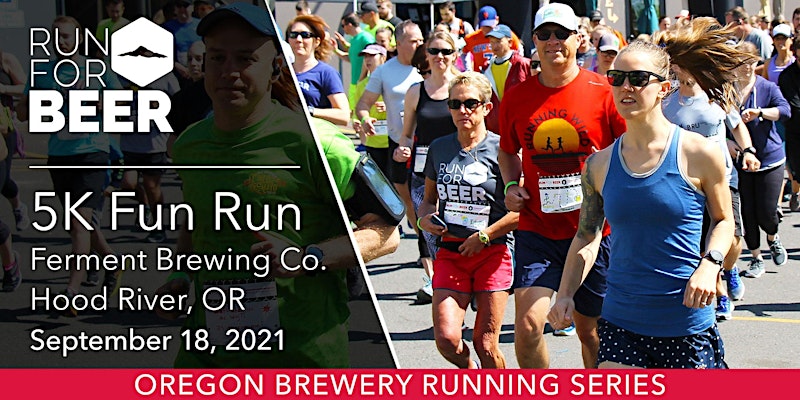 Looking for a true "Fun Run?" Look no further than the Oregon Brewery Running Series. Not only will you get a 5k(ish) run in, but you'll get a beer at the end, some swag, and a fun Saturday morning that doesn't start at the crack of dawn.
On September 18th, head into Hood River for the Oregon Brewery Running Series 5k that is taking place at Ferment Brewing Co. Waves start at 10:00AM and continue on in short waves of small groups to keep the crowds down and to keep people safe. All COVID-19 safety guidelines as outlined by the CDC will be respectfully honored.
Run or walk this untimed course that starts and ends at Ferment Brewing Co. Feel free to check out the course details here! No one cares how long it takes you, but there will be a free beer waiting for you at the finish line. In addition to the craft brew, you'll get another piece of swag, which changes according to the season. I've personally earned some awesome pint glasses, coffee mugs, masks, and sunglasses this way. There are also door prizes every hour on the hour, including other Brewery Running Series merch and growlers. Winners will be notified via email.
Feel good about the fact that your $30 registration fee will also be contributing to local nonprofits, as has been the case since the inaugural event in MN in 2012. Your entry contributes to the the 10% of proceeds that go to the Oregon Brewshed Alliance,, Dollar For Portland, and Oregon Food Bank.
If you've never experienced the fun of an Oregon Brewery Run before, a few things to remember should be mentioned, as outlined below:
Please don't arrive more than 15 minutes from your chosen wave to avoid congestion at Ferment Brewing. You are free to begin running at any time in your designated start window, so just GO when you get there!
Because of COVID-19 precautions, there will be no water stations set up, so plan to bring your own hydration.
There will be no bag check, so please plan appropriately.
Masks will be required at the taproom at all times, unless otherwise noted. Social distancing should also be employed.
The route will follow an open course with no road closures, so please obey all rules of the road. There will be some arrows along the route to follow, but please do pay attention. Safety is always the most important thing!!
Don't forget your valid ID/driver's license. Though you don't have to be 21 to run, you must be to drink a beer afterwards. Underage participants will get a token for a free non-alcoholic beverage.
This event will happen rain or shine, so roll with it and have some fun!!
Details:
What: 2021 Oregon Brewery 5k Running Series – Ferment Brewing
When:  Saturday, September 18th, 2021, waves beginning at 10:00AM
Where: Ferment Brewing Company (403 Portway Avenue, Hood River, OR 97031)
Cost: $30
Register: Here