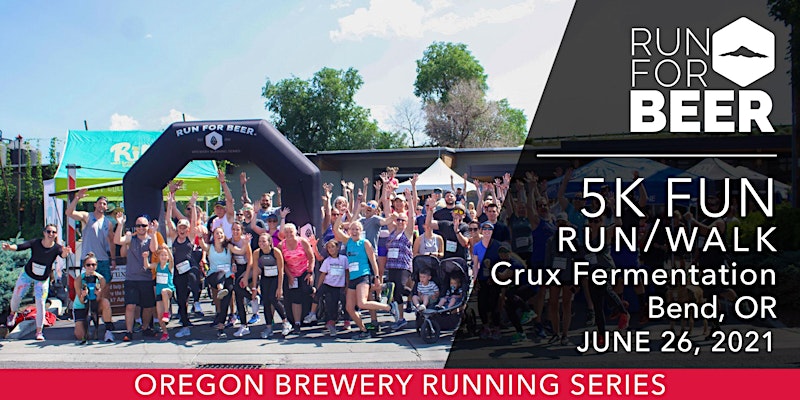 The Oregon Brewery Running Series is leaving the Willamette Valley and heading to sunny Central Oregon on June 26th for their 4th event of the year – this one at Crux Fermentation Project. Crux is a fantastic spot, just outside the Old Mill shopping area, and their course (still unreleased as of this writing), is sure to be great. Not that most of us need an excuse to head to Bend, but this one is as good a reason as any. Here's some more basic info about OBRS, if you are unaware.
All participants will receive a free craft brew after they finish their race, as well as their choice between a collector's pint glass or some other form of seasonal swag. There are always raffles too, and the names are drawn every hour on the hour so you've got a good chance of earning some Brewery Series Mech or a growler to bring home. Winners will be notified via email if they have won anything. All this for $30 is not a bad deal at all. Also, 10% of all the proceeds will support nonprofit partners the Oregon Brewshed Alliance, Dollar For Portland, and Oregon Food Bank.

So, in case you didn't know, we are in the midst of a pandemic. The Oregon Brewery Series has done a great job of keeping their events safe. Participants will take off in waves starting at 10:00AM and race organizers have asked that you not show up more than 15 minutes before your designated start window. Masks are required at the taproom at all times, and all participants must respect the social distancing rules in place. There will NOT be a communal water station set up, so you might want to bring your own hydration. As with any brewery running series event, the course is not closed, so you are required to obey all traffic laws and regulations. There will be arrows out there to direct you. There is no bag check available, you should bring your ID for the beer, and this is a RAIN or SHINE event!!
Run Oregon has had a participant at every event in 2021, as there are so many great things about this Series. Even an untimed event can provide you with a fantastic time!
When: Saturday, June 26th, starting at 11:00am – 2:00pm
Cost/Register: $30 per person. Register online at Eventbrite