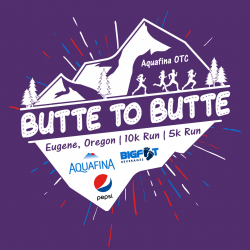 The Oregon Track Club and Eclectic Edge Racing is happy to report that the 2021 Aquatfina OTC Butte To Butte race is on the schedule for August 22nd, 2021. Of course, nothing is certain in the world of racing through a pandemic so there are never any guarantees, but so far, it's ON!!
This event, like many others, had to be canceled in 2020, and registration from last year will be carried over for 2021. If for any reason, the race gets canceled again, your registration will be deferred to next  year, as refunds are not permitted for this event.
The Butte to Butte Run/Walk offers two distances in 2021. There will be 10k and a 5k, and the 4 Mile Mayor's Fitness Walk from previous years will not be held this year. The race start times for the 5k will be between 7:15AM and 7:30AM between High and Pearl Street and will follow an out-and-back course, heading down High Street, Amazon Parkway, and looping back at 24th. The 10k will be releasing runners between 8:00AM and 8:30AM on 43rd Street at Spencer Buttle Middle School. This course will take a half mile jaunt through neighborhoods before turning onto the Donald Street Hill and then taking a downhill to a flat and fast finish on 5th Street between High and Pearl. You can check out the course maps here.
There will be a shuttle for the 10k race, as there is a drive required to get to the start line. The shuttle will be departing at 5th and Pearl between 6:30AM and 8:00AM. Don't miss the race!! If you feel you must park near the start, please don't park along the course route at any of the following: 43rd (between Mill and Fox Hollow), 42nd (between Mill and Pearl), Pearl Street (between 42nd and 46th), and on 46th (between Willamette and Donald). There will not be a shuttle for the 5k since this race will begin and end at the same location.
Strollers are welcome to participate, and kids in strollers do not need to be registered. Please do be mindful that large strollers may not fit on the shuttle buses. Strollers should line up at the start on the right side of the street and attempt to stay on that side. Unfortunately dogs are not allowed for the event.
There will be a free drop bag service at the Spencer Butte Middle School if you'd like to take advantage of this. Clearly mark your bib number and name on the bag before handing it over. Bags will be transported from the 10k start line to 5th Street Public Market on the west side of the parking lot.
The finish line will be at 5th Street, between High and Pearl Street, and the finish expo will be open at the 5th Street Public Market between 8:00AM and 10:30AM. Giveaways will be had, refreshments will be available, and vendor booths will be set up. There will be music and amazing food specials inside the market.  Be sure to bring your photo ID for the beer garden, where you will receive 1 free beverage.
The cost of this event is $25 for adults 13 and over. One child 12 and under is free with a paid adult, and additional children registering with an adult are $15.  There will be no race day registration, and if you wish to purchase a short sleeve tech shirt for $12, you can do so when you register. They will be available at packet pick up until they are sold out. Packet pick up will be on August 21st at the 5th Street Public Market between 9:00AM and 7:00PM, and not permitted on race day UNLESS you reside outside of the Eugene/Springfield area. For those out of towners, you can get your packets at the start line. There is also an option to have your bibs mailed for an additional $1.50 shipping fee.
Come to Eugene for this one!!
Details:
What: 2021 Aquafina OTC Butte to Butte 5k/10k
When: Sunday August 22nd, 2021. 10k Shuttles depart from 6:30AM to 8:00AM.
Where:  Spencer Butte Middle School, Eugene OR
Cost: $25 for adults (13 yrs +) One child 12 & under is free with a paid adult. Additional children 12 & under registering with an adult are $15. Tech shirts available for purchase for $12.
Register: Here
Packet Pick-Up: Aug 21st from 9:00AM to 7:00PM at 5th Street Public Market (296 E 5th Ave, Eugene, OR 97401.) There is no day of race registration.