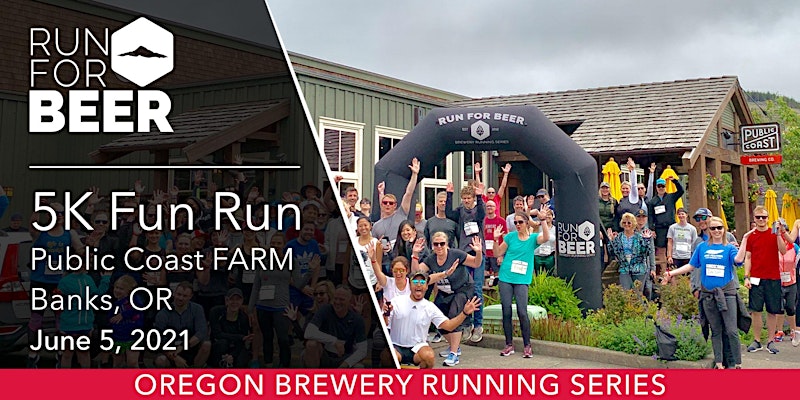 The Oregon Brewery Running Series has become the only running event I can get my husband to participate in. Why? Because he's not a runner, but he loves breweries, and this walk/run is the true definition of a "Fun Run." This is an untimed and pretty short 5k"ish,", it's super casual, and there's always a free beer at the end. It's also a really fun way to have a date with a friend or loved one, and it doesn't begin until 10:00AM.
Come visit the Public Coast FARM Brewery, located in Banks, OR for the Oregon Brewery Series 5k on June 5th, 2021. As mentioned, it's at a farm, and you can meander through this one at whatever speed you wish. It's all along Oregon's historic route 26, the Sunset Highway. Public Coast Farm can be found at the base of the Coastal Range nestled in on a 40 acre site among blueberry bushes, orchards, beehives, and or course delicious hops. The chefs onsite incorporate the farm's fresh ingredients into their menu, and the brewers have some delicious beers on tap.
So, in case you didn't know, we are in the midst of a pandemic. The Oregon Brewery Series has done a great job of keeping their events safe. Participants will take off in waves starting at 10:00AM and race organizers have asked that you not show up more than 15 minutes before your designated start window. Masks are required at the taproom at all times, and all participants must respect the social distancing rules in place .There will NOT be a communal water station set up, so you might want to bring your own hydration. As with any brewery running series event, the course is not closed, so you are required to obey all traffic laws and regulations. There will be arrows out there to direct you. There is no bag check available, you should bring your ID for the beer, and this is a RAIN or SHINE event!!
Come to Banks for this one! It will be worth your time!
Details:
What: 2021 Oregon Brewery 5k Running Series – Public Coast FARM
When: Saturday, June 5th, 2021 with waves starting at 10:00AM
Where: Public Coast Brewing Co, 22330 NW Fisher Rd, Banks OR 97106
Cost: $30
Register: Here