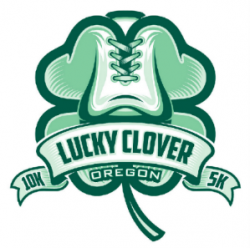 The 2021 Lucky Clover 5k/10k event takes place on Wednesday, March 17, at 5:30pm at Dorris Ranch in Springfield. Participants can choose from the Road 5k (run entirely on paved roads), Trail 5k (run entirely on dirt and bark chip trails within Dorris Ranch Park), and the 10k, which runs both 5k loops.
Matt participated in this in 2019, and had this to say:
Though I have spent limited time running in Springfield, I actually generally knew what the road course was going to look like. A few months back, I did a little runsploring and stumbled upon this spot and vowed to return at some point to experience the awesomeness again. I didn't necessarily think it would be at this event specifically, but I'm glad it was. The race started at Dorris Ranch, a great spot to park and explore the entirety of the trail system. course was a simple out-and-back on the Middle Fork Path, which runs alongside the middle fork of the Willamette River and provided some amazing views.
Entry fees are $30 for adults, $25 for youth or seniors (17 & under, or 60 and over, for all events through March 16. Add $5 for race day registration. Long Sleeve Tech shirts can be purchased for $14. Shirts are only guaranteed if ordered by Tuesday, March 9.
Online registration is open until midnight on Tuesday, March 16, or you can print and fill out the paper registration form, then either mail it in or register in person at Eugene Running Company & Run Hub NW before 7PM on Tuesday, March 16. There is no day of race registration.
Packet pickup starts at 4pm on race day. Please have a mask or runner buff with you and wear it properly during any interactions within six feet of crew, other participants, and the general public.