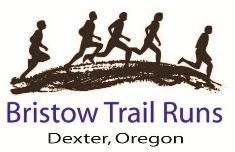 Bristow Trail Runs is an opportunity to run flat trails with plenty of aid stations. If you are like me, you have been running for a year, anticipating a live race! I was so excited to see this race to up, so I'm coming for you Bristow Trial!
With two aid stations, you will be passing twice on the loop for a total of four stops if needed, you will have plenty of support.  Gatorade, gels and more will be available. If you need to have your own items available at the aid stations you will be able to drop off your personal items before the race begins.
The course consists of a 5.2 mile loop, all on single-track trails. This course is entirely flat, on trails adjacent to the Willamette River. Most sections of the course are wooded, muddy and wet. The 50K will cover the loop 6 times, the 25K will cover the loop 3 times, the 10M will cover the loop twice (yes, that makes the distance 10.4 miles), and the 5M will cover the loop once (actually 5.2 miles).
The course elevation isn't necessary as this is a very flat loop. Less than 10 feet in elevation gain. Sounds like a fast one to me aside from some mud!
Here's a snippet from last year:
The course was beautiful and basically dead flat so I found that I was actually running at a quicker clip than I thought I would be. While the course map looks like a curlicue lollipop out and back, it was impeccably marked and staffed, so there was no room for confusion. There were 2 aid stations per loop that runners passed twice, for a total of 4 chances for aid in 5-ish miles, which is great. In fact, I didn't run with any sort of hydration or nutrition on my person and never regretted it.

There were a few good stretches of absolute chaos in the mud. The kind where you throw your arms out for balance and [half] joke that you threw your back out in the process! The kind where, maybe the 3rd time you go through, you walk it. Otherwise, the trail was wonderfully runnable, soft, and gorgeous. There were sections by the water and sections in the water! There were 3 good "puddles", about shin-deep, right in a row. Splash, splash, splash! The first time through I was in a line of people and we all just ran right through without hesitation, high-stepping, and leaning into the inevitable wet shoe scenario. The second time around I was alone and though I ran right through again, the water seemed colder! With the mud settled, I'm sure that was true!

The miles flew by and because of the loop-style course, I was seeing my coach and others I knew throughout the morning on course. There were periods where I felt the nice solitude of trail running and other moments of solidarity with other runners around me – it was fun to strike up a conversation and find out who was in which distance, since there were dizzying numbers coming and going! Eventually I was on the home stretch to the finish and looked forward to seeing just how muddy my legs would be!

I loved the feel of Level 32 Racing's event and recommend giving their races, or the whole series, a try!

You can see results from the day at Bristow here, photos here, and always, be sure to check out their Facebook page for more info on their events!
50k $50
25k $35
10 miler $30
5 miler $25
Race starting times will be staggered based on pace.
8:00a 5k
9:00 25k
9:30 5 miler
9:45 10 miler
Please have a mask or running buff on your person at all times for interaction with-in 6ft of another person.