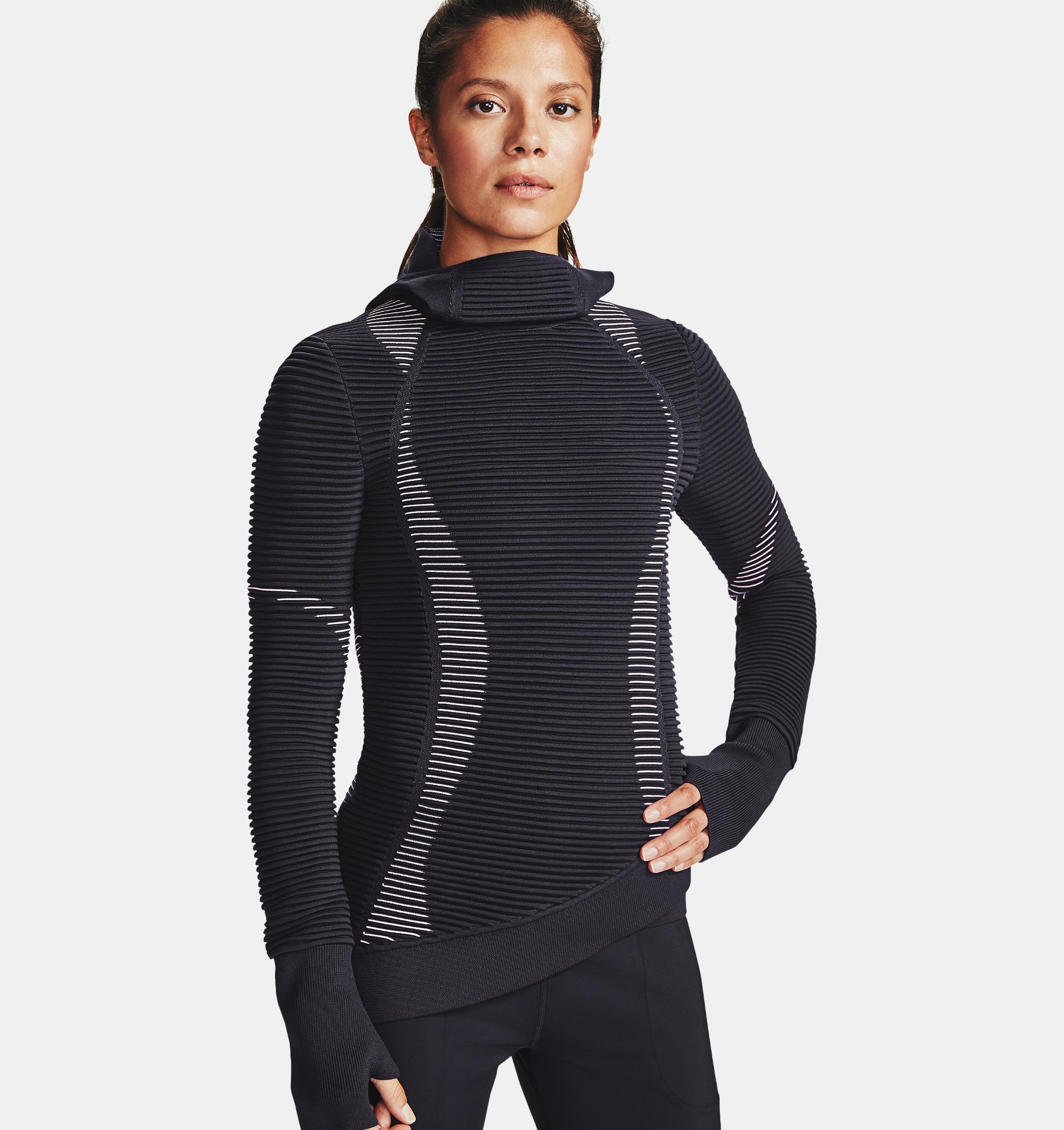 While we had a relatively mild Fall (all things considered), the past few weeks have showcased that the cold part of winter is officially here. So, while this is a bummer for some Run Oregon bloggers (myself included), it does allow us to jump a little bit more into apparel items that have been designated to the backs of closets, dressers, and bins – long sleeve, cold-weather tops.
Sigh.
Under Armour's latest apparel innovation is their IntelliKnit Balaclava Hoodie, a quality top in both performance and style, with some new technology threw in for good mix. First and foremost, it is made from a "technologically advanced" Japanese yarn that is said to dry fast and hold heat in – a marriage that would offer warmth and durability. I will say that the first time I put this on was just to wear around the house. Within a handful of minutes doing moderate housework I was already super warm and toasty, so whatever they are doing sure works. And somehow, even with the level of warmth this provides, it isn't bulky or overly heavy.
The fit itself is quite nice. It's designed to be more of a standalone item so it's tighter and form fitting – so consider sizing up if you need some extra wiggle room. Even though it's designed to be slimmer fit, it is very stretchy so I never felt constricted when running in it. It's also super soft and has reflective bands on the arms that are great for night / morning runs. Another great running feature is the tight hood – making things even toastier on those cold jaunts. The hood pulls up tightly around the head and leaves a relatively small opening for essentially only your eyes.
It even has a small folded opening in the back that can be utilized for a ponytail.
The IntelliKnit Balaclava Hoodie is even a nice crossover piece – potentially even classifying as "athleisure". It's obviously completely functional to run in, but can double up as a casual option to wear out and about as well. Shoot, you could probably even go from run to dinner in it due to its sweat-wicking and odor-resistant properties. And right now, with outdoor dining being the name of the game, it may prove more useful then ever (maybe toss some deodorant on just in case, but still – it can fit right in at a casual restaurant).
The price is a little steep, but it seems to be a top that will last and potentially take over a bunch of less warm and functional options you are likely using now. I also recommend keeping away from cat paws – the two are definitely a recipe for disat-purr…
I never would have thought that a knit top could be an effective and functional piece of running wear, but this hoodie has proved me wrong. Bring on winter now – I'm more ready than ever.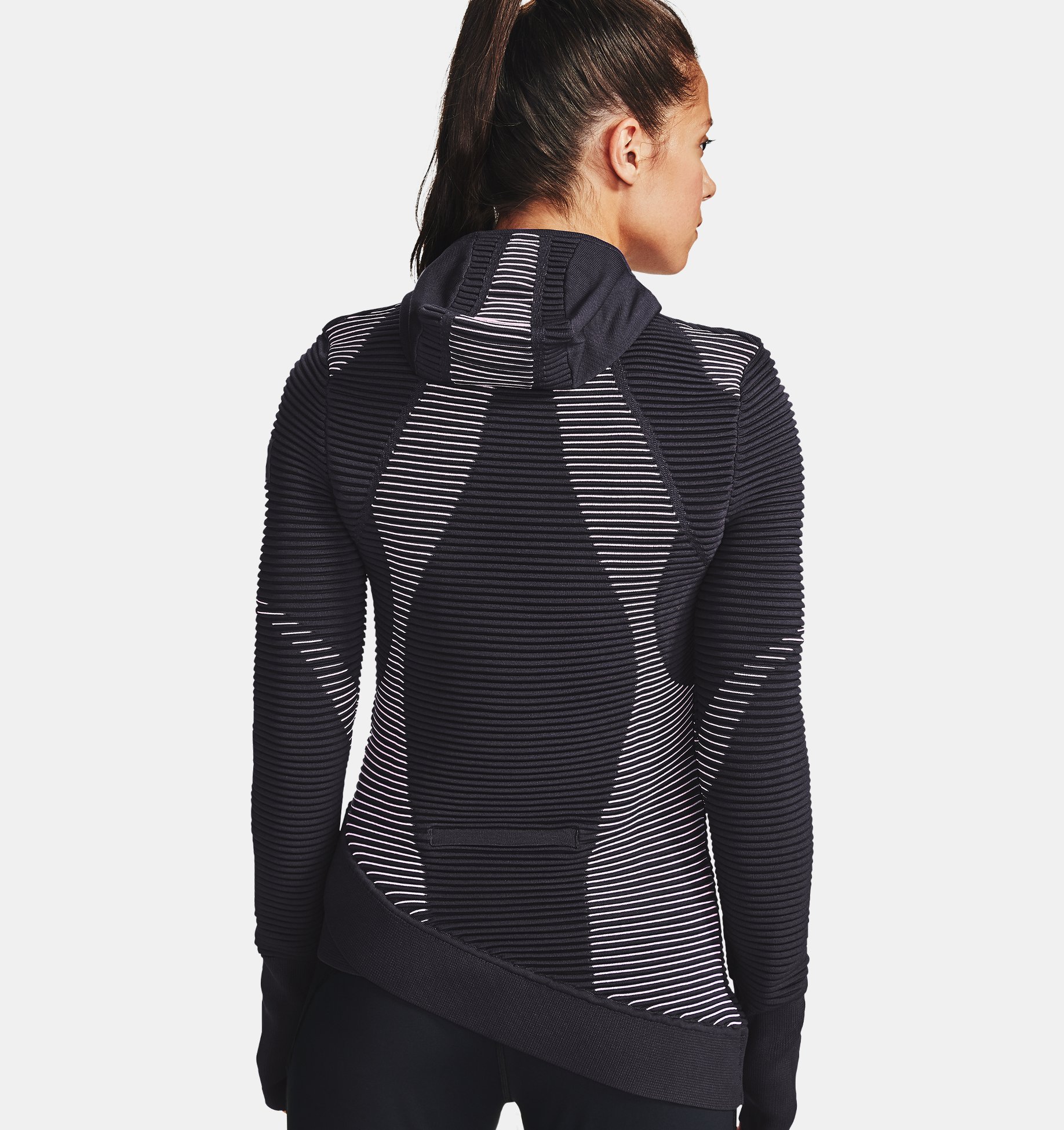 Company:
Product: 
100% Polyester
High performance yarns provide breathable warmth without the weight
Body-mapped knit construction for insanely fast dry times
Built-in balaclava-style face mask with engineered mesh so you can breathe easily
Asymmetrical, layered bottom hem for enhanced coverage
Ribbed bottom hem & ½ glove cuff construction
---
Thank you to Under Armour for providing us with a sample item. Please read our transparency page for info on how we do our reviews.