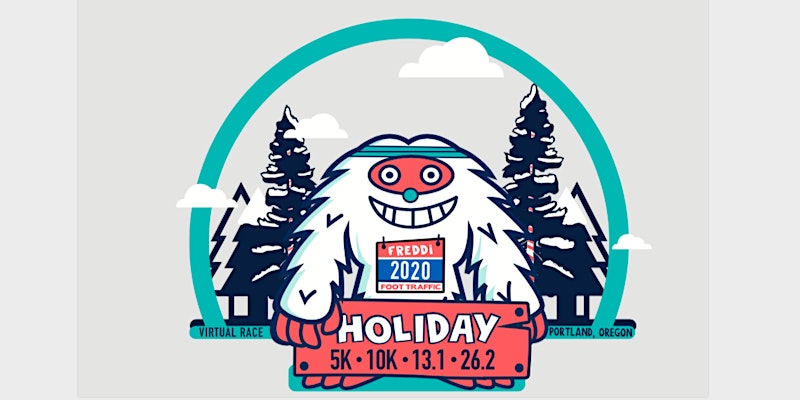 The Foot Traffic Holiday Half has always been a race that's kept me motivated in the winter, and though it's virtual this year, that still hasn't changed! The 2020 Virtual Holiday Half/Full/10k/5k has many distance options this year and some awesome swag, and I plan to run this just as I have in previous years. I could certainly use a kick in the butt this winter, and this is the race that will do it for me.
In addition to a Full Marathon, a Half Marathon, a 10k and a 5k, there are 12 and 8 Day Challenges as well. The 12 Days of Christmas Challenge offers you a chance to run or walk for 12 straight days all the way to 12 miles and you can divide it up however you wish. The 8 Nights of Hanukkah Challenge is a similar event, with 8 straight days of running or walking up to 8 miles.
The swag, as previously mentioned, is great for this race this year. Included in your registration is a super soft long sleeve shirt (these Freddie the Yeti shirts are among my personal favorite race shirts) as well as a huge finisher medal. You'll also get a cute holiday mask with Freddie on it and some touchscreen gloves. In addition to this, a commemorative finish line ribbon and an accomplishment patch will come to you. As always, you'll get a custom race bib with option for chip timing, virtual race results, and a live feed with photos.
There are set "open-course" options from the Foot Traffic stores to choose from or you can choose your own route from the comfort of your own home. It's completely your choice. Pick your distance and run any time between Dec 13th and Dec 26th. Afterwards, submit your results, submit some pics, and wear your swag with pride.
Currently, Foot Traffic's locations will be opening their doors for packet pick up December 10th through December 13th. All four locations will have one day of pick up for your convenience and you can come on in or arrange to have your packets delivered to you curbside. See "packet pick-up" info below for the schedule. If you live out of the area and need your packet shipped or can't get to it, you also have the option of submitting your mailing address to have it shipped to you. Please do note that if you opt for having your packet mailed, it will likely not arrive until Dec 17th-30th.
Just because we are living through a pandemic, it doesn't mean we can't have some fun and stay healthy. Let's end our 2020 with a celebration and go for a run!!
Details:
What: 2020 Virtual Holiday Half/Full/10k/5k
When: December 13th-27th, 2020
Where: Run the Foot Traffic Courses (see the website for route maps) or on your own!
Cost: $64 for Half/Full Marathon, $44 for 5k/10k, $64 for 12 Days of Xmas Challenge, $59 for 8 Nights of Hanukkah Challenge, $95 for $100 Gift Card.
Register: Here
Packet Pick-Up: Dec 10th from 11:00AM to 6:00PM at Foot Traffic Sellwood, Dec 11th from 11:00AM to 6:00PM at Foot Traffic Vancouver, Dec 12th from 10:00AM to 4:00PM at Foot Traffic Northeast, and Dec 13th from 11:00AM to 5:00PM at Foot Traffic West