For the past week or so, I have been nursing some foot pain. Basically, I have gone from running about 35 miles/week to only walking 7 to keep my daily streak alive.
It's awful.
I haven't had foot issues in a while, but have historically had some flare ups of Plantar Fasciitis over the years. I have high arches and have gone between insoles over the years, but this has gone by the wayside over time and I have been lucky enough to avoid injury. But here I now sit – injured, sore, and complaining about not running. My bad.
We recently received some insoles from Superfeet and have been putting them to the test on our sore feet the past little bit.
There really isn't much worse as a runner than not being able to comfortably put in the miles you want to because of pain. I don't know if it's doubly worse because of a pandemic world where running has been my escape from things, but it's just been a rough few weeks. Luckily Superfeet has a few options that are keeping me as comfortable and supported as possible.
The RUN Comfort Max insoles are designed with running in mind – hence the name (duh). It is made from an AeroSpring Dual Comfort foam and EVOLyte carbon fiber cap that are described as providing not only a comftable feeling, but also "efficient energy transfer through your gait from foot strike to toe off". I'll be honest up front, I haven't done a TON of running in the few weeks since receiving these, but in the few times I have tried my hand (well, feet) at some sort of quick paces, I would have to agree with this assessment. It does a really nice job at supporting my higher arches, and I did feel like my strides were being utilized properly. 
In a perfect, non-injury world, these insoles are designed to decrease foot fatigue in those who desire / need more foot support in their shoes. I have been wearing these around in some of my day-to-day (i.e. non-running shoes) as well and feel these will be with me for a while. Regardless, these should hold up for a year or approximately 500 miles.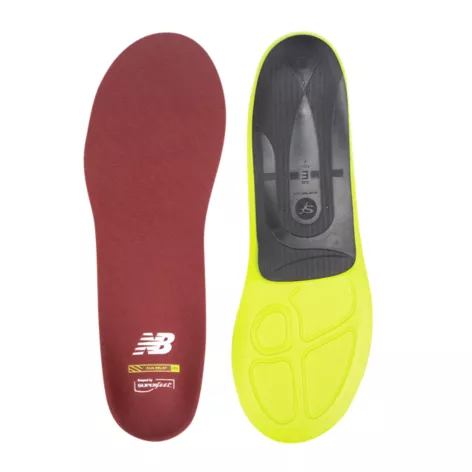 We also tried the new Running Pain Relief CFX Insole, a partnership between Superfeet and New Balance that began earlier this year. From the press release:
The new line of New Balance insoles built on the signature foundation of Superfeet shape, features three distinct purpose-built collections – Casual, Running, and Sport. In addition to delivering a fresh offering of off-the-shelf products curated to meet the needs of the New Balance consumer, New Balance will offer their shoppers custom created insoles. Combining Fitstation by HP + Volumental, 3D scanning and gait analysis technology, New Balance custom insoles will feature 3D-printed-caps manufactured on HP Jet Fusion printers and assembled into finished insoles at the Flowbuilt Manufacturing facility in Washington state.
It's almost like Superfeet is gearing itself towards people like us. For sure, a collaboration with New Balance is something that most of us can get behind as clearly they are making designs with runners in mind. Here are some specs:
CFX CARBON FIBER: built with carbon fiber technology for gravity-defying support
DEEP HEEL CUP: cushions and protects against ground impact
MOISTURE-WICKING: engineered to control odor
SHAPED BY SUPERFEET®: the legendary orthotic shape recognized worldwide for providing a supportive energizing foundation
THERAPEUTIC CUSHIONING: redistributes pressure to help alleviate foot pain
TRIM-TO-FIT DESIGN: Trim the insole to fit the size and shape of your shoe.
For runners experiencing foot pain, the Pain Relief CFX Insoles provide heavy duty support and may provide comfort for common ailments like plantar fasciitis, metatarsalgia and shin splints.
That last bullet point is the kicker for me. As someone who is currently working through PF pain, I have found that adding these to my trainers have been a godsend. I've been able to do some light plyometrics without issue, as well as allowing me to keep up with my nightly dog walks pain-free.
They run a little more on the pricy side ($64.99), but the therapeutic cushioning and carbon fiber arch support seem like they should hand on for a while. Regardless of if you are reading this in the midst of a pandemic or another future time, Superfeet really do a great job with their insoles.
---
Products:
Thank you to Superfeet for providing us with samples. Please read our transparency page for info on how we do our reviews.