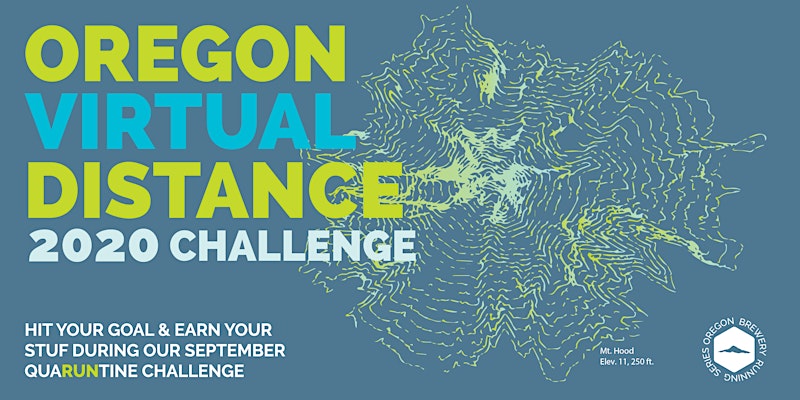 Now in the sixth month of restrictions on social gatherings, Oregon Brewery Running Series is again inviting us to join the September 2020 QuaRUNtine Virtual Distance Challenge, setting a mileage goal and tracking it through Strava to work towards earning prizes. I have to admit that having the goal and earning beer and other swag has been instrumental in keeping up my routine and getting outside!
After you sign up, you will receive an email explaining where to log your miles. The very first time you establish this connection between Strava and the challenge webpage, it will ask you about your goal distance for the month. You will have to re-visit the website and confirm the permissions to view your Strava workouts in order to update your leaderboard standings. As the month progresses, the leaderboard is updated, participants are encouraged to participate in online happy hour meetups (every Thursday evening at 5pm on Zoom), interact on Facebook and Instagram, and each week there will be a coupon for a takeout order from a local brewpub.
To get started, register for this event on Eventbrite, Join the club on Strava* (it's Free) to verify your miles, submit your miles, then win great prizes! A portion of the proceeds go directly to the #EmergeStronger Community Challenge, part of the Oregon Food Bank.
This month there are several levels for your registration: $45 gets you signed up for the challenge and eligible to win your goal prizes (see list below). $59 covers registration plus the "Run Far Drink Local" Mount Hood t-shirt. You also have the choice to register without receiving prizes, and the funds that would pay for the swag will also be donated to Oregon Food Bank. Prize pickup takes place early next month on various dates and at various small brewery locations. Details will be announced after the challenge ends.
THE PRIZES:
(Mileage totals are counted from September 1-30, 2020)
25% of goal: Custom Mt Hood Topo Coaster/Bottle Opener
50% of goal: Custom BOCO Mt Hood "Performance" FaceMask
100% of goal: $25 gift card to our online store.
120%+: 6-Pack of beer!