**GIVEN THE UNCERTAINTY OF THINGS DUE TO COVID-19, PLEASE NOTE THAT WE ARE PREVIEWING THIS RACE AS IF IT IS STILL OCCURRING . WE ENCOURAGE YOU TO FOLLOW THESE RACES ON SOCIAL MEDIA OR THEIR WEBSITES TO DETERMINE IF CHANGES ARE BEING MADE**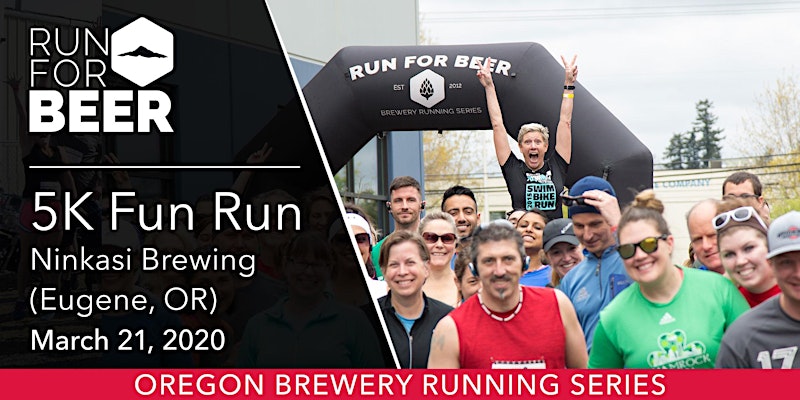 Oregon Brewery Running Series is heading to Ninkasi Brewing in Eugene for the first time on March 21. Ninkasi has been in Eugene since its inception in 2006, and it now is the 35th-largest independently run craft brewery in the United States. The course map will be available soon.
As with all OBRS events, you'll want to arrive about 30-45 minutes before the race starts at 11, so you have time to pick up and customize your race bib. You'll also want to leave any extra clothing in your car and plan to carry your car keys and other essentials (or leave them with a non-runner), as there is no bag check. The race course is 3.1ish miles long, the course will be open (not closed to cars), and participants will be expected to stay on sidewalks and obey all traffic laws. There is no timing mat or even a clock, so you can choose to keep track of your own time, or not. The first male and first female to cross the finish line will receive a growler filled with the beverage of their choice.
After you cross the finish line, there will be music, snacks, and drinks (one beer for participants age 21 or older). There will be a raffle for items from sponsors as well as OBRS swag. The cost is only $30 for the run, or $40 if you want to purchase a t-shirt, and 10% of all the proceeds will support the series nonprofit partners, the Oregon Brewshed Alliance and Dollar For Portland.
Ninkasi Brewing 5k Details:
When: Saturday, March 21; 11am
Where: Ninkasi Brewing Eugene (map)
What: 5k fun run
Registration: Online here
Registration includes: Race entry, one swag item, one free beer, post race snacks
---
The following weekend, on Sunday, March 29, the Great Green Run 'n Relay takes place at Laurelwood Golf Course in Eugene. This cross-country style challenging course takes participants on a looped course on single track trails and the occasional fairway. The distance options are a 5k, half marathon, half marathon relay, and marathon relay. The relay teams can consist of 2-5 participants. The 5k course is a single loop that measures out to the 3.1 miles needed. The half marathon, half relay, and marathon relay are run on a 2.62 mile loop, resulting in 5 loops for the half and 10 loops for the full marathon. The time limit for the event is five hours, so plan accordingly.
Registration for the 5k costs $25, the individual half marathon is $40, and for the relays it's $25 per team member. Prices go up on March 16th and then again for day of race registration.
Great Green Run 'n Relay Details:
When: Sunday, March 29; 8am
Where: Laurelwood Golf Course (map)
What: Half Marathon, Half Marathon Relay, Marathon Relay, 5K
Registration: Online here
Registration includes: Chip timed race, post-race refreshments (food, beer or cider for ages 21+ and other snacks), age group awards and random prizes. Event shirts are available for $12 in women's and men's sizes through March 19, 2020.