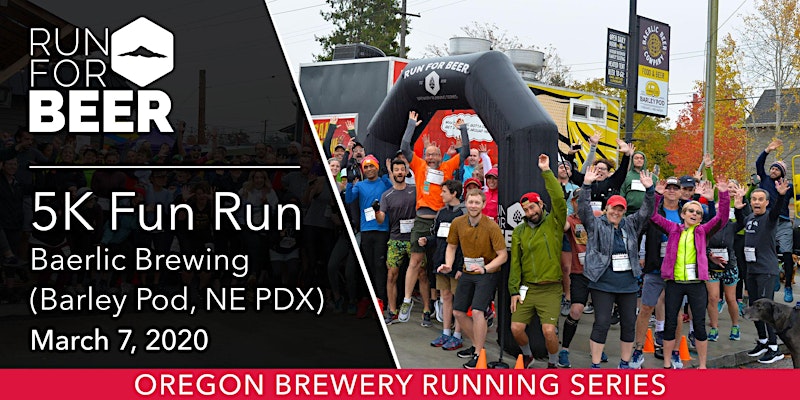 Oregon Brewery Running Series returns to Baerlic Beergarden and Food Pod in NE Portland for their run on March 7th, 2020. This Baerlic Brewing location offers a tap room surrounded by some of the best and varied food carts. From this location, runners and walkers will follow a counterclockwise loop around the Rose City Golf Club, with trees shrubs lining the route for a large portion of the race.
As with all OBRS events, you'll want to arrive about 30-45 minutes before the race starts at 11, so you have time to pick up and customize your race bib. You'll also want to leave any extra clothing in your car and plan to carry your car keys and other essentials (or leave them with a non-runner), as there is no bag check. The race course is 3.1ish miles long, the course will be open (not closed to cars), and participants will be expected to stay on sidewalks and obey all traffic laws. There is no timing mat or even a clock, so you can choose to keep track of your own time, or not. The first male and first female to cross the finish line will receive a growler filled with the beverage of their choice.
After you cross the finish line, there will be music, snacks, and drinks (one beer for participants age 21 or older). There will be a raffle for items from sponsors as well as OBRS swag. The cost is only $30 for the run, or $40 if you want to purchase a tee-shirt, and 10% of all the proceeds will support the series nonprofit partners, the Oregon Brewshed Alliance, and Dollar For Portland.
5k Details:
When: Saturday, March 7; 11am
Where: Baerlic Brewing at the Barley Pod; 6035 NE Halsey St (map)
What: 5k fun run
Registration: Online here.
Registration includes: Race entry, one swag item, one free beer, post race snacks