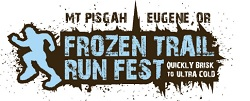 A trail run is essential a hike, which is essentially a walk in the park, right? If you go into Frozen Trail Runfest with this attitude, you may find yourself sorely surprised.
The event, which includes a 5k, 15k, 25k and 50k, will be the sixth and final event in the Run Big Trail Series. Held at Buford Park at Mount Pisgah, each distance combines loops of varying sizes, but all start and end at the horse arena staging area, to the north of the northern trailhead. As for why this is no walk in the park, the courses for all races (including the 5k), are described as "very challenging" with portions going straight up the mountain. Think this is an exaggeration? Just take a look at the elevation map.
The 50k has a time limit of 8 hours, and all other courses will close at 4:00 p.m. Course conditions will range from muddy and flat to well maintained and steep. Aid stations will have water, GU, snacks, and first aid supplies, but on a course this challenging, you may want to bring your own just in case.
The Frozen Trail Runfest is technical, challenging, and physically demanding. This ain't no fun run, but that doesn't mean you won't have a blast. As the organizers say, Train hard. The race IS the reward."
What: Frozen Trail Runfest
Distance: 5k, 15k, 25k, and 50k
Where: Howard Buford Park, Mt Pisgah – Eugene, Oregon
When: Saturday, December 9, 2019
Packet Pick Up: Bibs are issued on race day at the Start/Finish area starting at 7:00 a.m.
Start Time:
8:00 a.m. – 50k
9:30 a.m. – all other events
Cost (Ages 17 and under or 60 and older, deduct $5)
5k – $25
15k – $35
25k – $40
50k – $55
Long sleeve technical shirt – additional $14
Registration:
In person at Run Hub NW (515 High St.) through Friday, December 6th at noon (printable form found here)
On race day at the start line staging area, from 8:00am to 9:25am (additional $5 registration fee)