It's that time! Sleigh bells ring … are you listening … I know, I know, it's not even Halloween yet. I get it! However, hang with me for a minute as I wanted to get this event on your radar as 1) it is very well priced ($65 for the half and $25 for the 5k until 12/13), 2) it's very walker friendly, and 3) some very festive medals for half finishers and age-group placers. Among other things!
The Eugene Holiday Half and Hustle features a walker friendly half marathon (4 hour time limit), a 10k, and 5k,. The event takes place on Saturday, December 14, 2019 at Coldfire Brewing – which means that post-race festivities will feature some fantastic beers. Yippee! 
There will be 4 aid stations (and three port-a-potties) for the half, featuring Gatorade, water, energy snacks, etc). The half marathon will feature lovely finisher medals and even this distance is very walker friendly, with a 4 hour time limit. This will be a flat and fast half marathon, featuring a beautiful tour along the epic paths lining the Willamette River. Here's a written definition:
The course heads west at Coldfire Brewing and pops onto the Ruth Bascom Path. Then, the course proceeds north on the path, crossing over the Owosso Foot Bridge. There is a short out and back section on the path and then participants head southeast on the Ruth Bascom River Path through Alton Baker Park to the boat launch. The course continues on Day Island Rd, around the canal, westbound on the bike path north of the river, over the DeFazio bridge and back to the finish line.
Click here to view the half marathon course map.
The 10k and 5k events are also super flat and fast and will follow a shortened version of the half (see maps here). Participants will be treated to 1 aid station for the 5k, and 3 aid stations for the 10k. As with the half marathon, the 10k and 5k will feature awards for the top three male and female age group finisher.  Event shirts for the half marathon, 10k and 5k are available for purchase until November 14 for $15.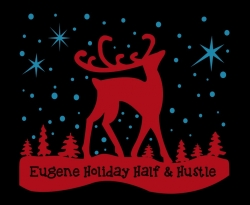 If Eugene seems a little far to drive in the wee hours of the morning, consider staying at a vacation rental. If you have never booked through AirBnB, click on this link for a $35 credit from race director Piper Ruiz.
Date:
Saturday, December 14, 2019
Distance: 
Half marathon, 10k, 5k,
Start Time:
9 a.m. for the half marathon, 9:30 a.m. for the 10k/5k

Cost:
$65 for the half; $25 for the 10k or 5k; Shirts available until 11/14 for $15
Register:
Click here to register