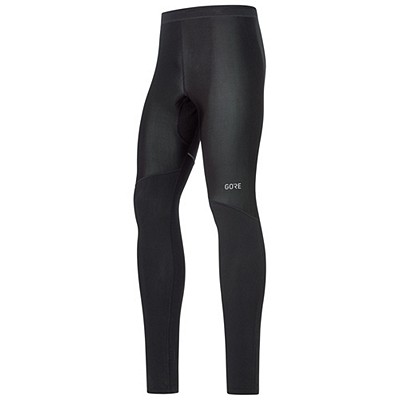 Over the past few falls and winters I have started to come around on baselayer pants and tights when running. I have never really had issues with running in shorts – regardless of the weather – so I just never bothered with trying them out. However, I have come to actually really like them and they have made even mildly chilly days more enjoyable to run. It sort of pains me to say it, but tights may soon outnumber my shorts. GORE's Partial Windstopper Tights are a nice take on tights – not only providing compression and warmth, but wind blocking abilities.
There are three main construction points to the tights – a shell face, backer, and stretch fabric.
Shell Face & Face – 92% Polyester / 8% Elastane
Stretch Fabric – 85% Polyamide / 15% Elastane
This unique construction provides a nice next to skin feel but actually a little softer than anticipated and much more functional. The size was pretty on-point (I didn't feel I needed to sign up – something that I sometimes find in GORE gear), and there is a cuff that can fold to turn long tights into shorter ones if that's your preference. There is a zipped pocket on back and an elastic waistband that hold up the lightweight pants. I wish that the elastic in the waistband was a little longer, as it makes achieving a hard knot more of a challenge considering that it is a continual connected piece (as opposed to a string with two ends).
All in all, these are great and I am adding these to my to pairs of tights.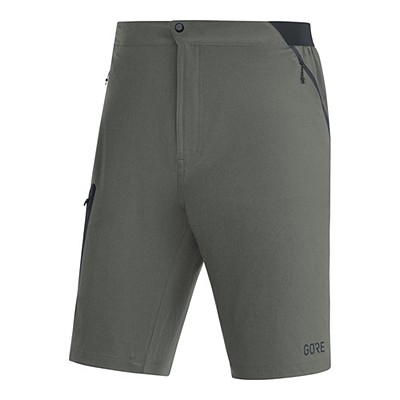 I was surprised as to how much I ended up loving the R5 shorts. Pulling them out of the box, they definitely look a little more like weightlifting or plyometric workouts than street running shorts. I could definitely also see them as a hiking/trail running short as well. They fit me a little tighter (even with an Active Fit they were tight on my, admittedly more muscular, thighs). The tightness is not restrictive and the fabric and construction have a lot of stretch to them. They were really comfortable and I got excited to think of these on my next long mileage backcountry trail run-sploration.
One solid feature that I did not expect was how well they held up for my running and phone storage. The pockets are tighter against the body and, as a result, I was easily able to run with my phone in the pocket – something that is almost NEVER an option in most other running shorts. I even used the other lower thigh pocket for my car key and it was hardly noticeable. I actually discovered this on a day when I forgot my running belt, so it was a pretty great revelation!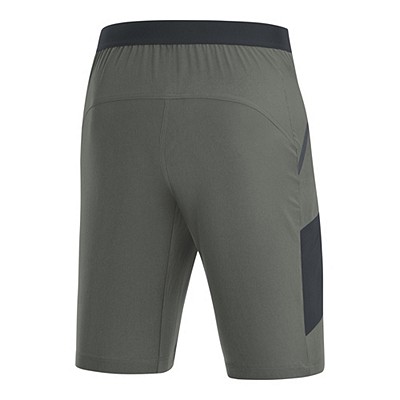 Again, these shorts really did the trick and the handful of runs over the past few weeks have yielded similar results. For some reason, each time I pull them out I think that I shouldn't be as comfortable running in these as I am – and every time I am happy they were in the rotation.
I ended up waiting a bit to try this out, as when I received it we were in the middle of some completely pleasant autumn temperatures that didn't necessitate long-sleeves. However, now that the rain and cold has come on, Gore's Soft Lined Long Sleeve Shirt gets the job done. My first run was a cool afternoon that was met with some periods of short, yet forceful, wind and rain.
It's surprisingly comfortable, something that I don't normally associate with rain jackets. This is due to its GORE-TEX INFINIUM soft-lined garment with Persistent Beading technology. This technology keeps things comfy on the inside (four-way stretch under arms, flatlock seams) and functional on the outside (surface will stand up to light to moderate rain, breathable material wicks sweat from skin).
The zipper goes up high on the neck for optimal warmth, but also has a "garage" so that you won't chafe when it's all zipped up. There is a small zipped pocket on the back and this can be used in the dark winters with it's reflective details as well.
Overall, this is a really nice and functional winter item. It has held up to the elements so far (though likely won't work optimally in heavy downpours) and will be great over the next few months. The one "negative" is the size, and that's easily remedied by my recommendation to size up, unless you desire a tight fit.
---
Company: GORE (Facebook)
Products and Price:
More about GORE:
We strive to push the boundaries of fabric technology, through a never-ending process of improvement.

You can see our commitment to this process in the engineering of our prototypes, right through to thoughtful details in the end product. Once we have developed a product as far as it will go, we just keep on going.

People are at the core of this evolution. Every GORE® product is the result of integral partnerships.

We collaborate with professional athletes to research, to develop and to test function-first apparel that sets new standards in comfort and protection.

We innovate so that you can experiment more. So that you can take on the elements, push your performance, and challenge your limits.

Together, we embrace our shared commitment to continuously improve,

TOGETHER WE #ALWAYSEVOLVE
---
Thank you to Gore for providing us with samples. Please read our transparency page for info on how we do our reviews.