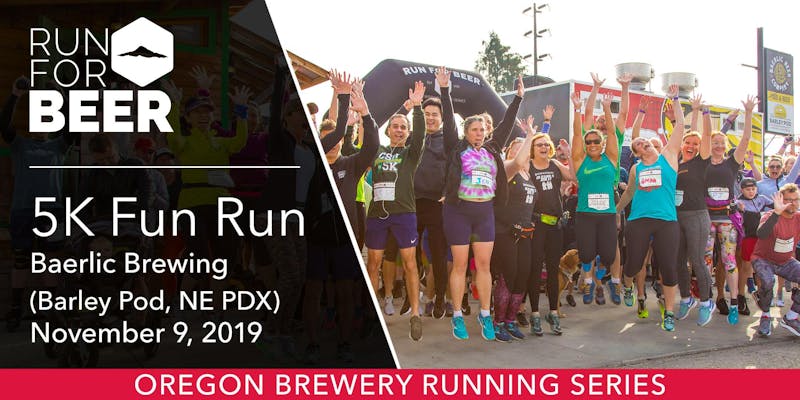 Carbing up is an important part of any race preparation, and the Brewery Running Series has combined carbs and running in the most simple way possible: beer + running = fun. Each race in this series partners with a brewery, and on Saturday, November 9th, the final event of the 2019 series will be held at Baerlic Brewing in NE Portland's Barley Pod. Proceeds of the event go to the Oregon Brewshed Alliance, Dollar For Portland, and Life Vest Inside.
The focus of this event is definitely more on the fun than the run. The race is untimed and participants run on sidewalks instead of shutting down city streets. There's no official packet pick up, but people are encouraged to arrive half an hour prior to starting for registration. In lieu of a finisher's medal, runners will receive a free beer in a pint glass you get to keep. Additional food and swag is available for purchase, and the surrounding food cart pod has plenty of delicious options for vegans and carnivores of all taste preferences.
Baerlic Brewing derives its name from "of barley" in Old English, and the company prides itself on this notion that even complicated concepts can be simplified to a single origin. What could be simpler than a shared love of running and beer? Come enjoy a relaxed, social run and help the Brewery Running Series end the 2019 season with a simply wonderful event.
What: Baerlic Brewing 5k Fun Run
Where: Baerlic Brewing Barley Pod (6035 NE Halsey St, Portland, OR 97213)
When: Saturday, November 9, 2019
Packet Pick Up: 30 minutes prior to race
Start Time: 11:00 a.m.
Cost:
Race only – $30
Race and t-shirt – $40
Registration: Online