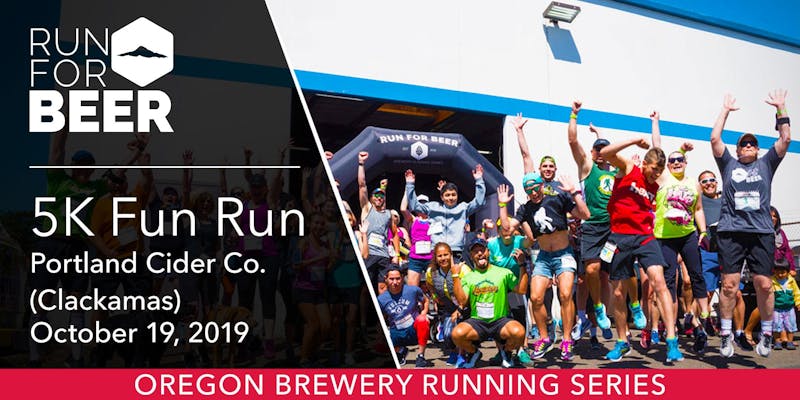 The Oregon Brewery Running Series promotes fun, health, and wellness while highlighting many of our state's finest breweries, but runners who avoid gluten (or just don't have an appetite for beer) can still join the fun with the only non-beer event of the series at Portland Cider Co on Saturday, October 19.
This no-frills, all fun run costs $30, and a shirt can be purchased for an additional fee. As with most events centered drinking, the primary focus will be bringing people together and enjoying the day. This 5k will be untimed and held on sidewalks instead of closing down the street. There is no finisher's medal, but all participants earn a free pint of cider.
While the race itself may be casual, the funds from this series are doing serious good. 10% of proceeds go to Oregon Brewshed Alliance, which advocates for clean water, Dollar for Portland, which helps families cover medical expenses, and Life Vest Inside, which promotes kindness. Portland Cider Co has its own initiative with Partners for a Hunger-Free Oregon, which helps conquer hunger on both a local and a systemic level. On the day of the race, Portland Cider Co. will be releasing a special cider made almost entirely from fruit that was gathered from Portland backyards, and all proceeds from the sale of this cider will go to Partners for a Hunger-Free Oregon.
Whether you're motivated by the endorphins of a good run, the camaraderie of a social get-together, or the taste of a well earned cider, The Portland Cider Co. 5k Fun Run provides an opportunity to raise money for the community and enjoy some gluten-free fun.
What: Portland Cider Co 5k Fun Run
Distance: 5k
Where: Portland Cider Co. (8925 SE Jannsen Rd, Clackamas, OR 97015)
When: Saturday, October 19, 2019
Packet Pick Up: 30 minutes prior to race
Start Time: 11:00 a.m.
Cost:
Race only – $30
Race and t-shirt – $40
Registration: Online