The fast and flat Scandia Run is back for it's 45th (!) year this summer and there is a lot of great going on in this small town race. But being "small town" doesn't make this small by any means, as they had over 525 runners just last year with some really fast times. Here's a little bit more about this history of this race:
The Scandia Run was started in 1975 by the Junction City High School Cross Country Team in cooperation with the Junction City Parks and Recreation Department.

The Scandia Run & Walk is now owned by Valley South Athletic Club, a 501(c)3 non-profit that endeavors to promote athletics and scholarship in our community. Proceeds from the Scandia Run are used to support the track and cross-country programs of Junction City High School & Oaklea Middle School.
The USATF-certified 10k and 5k both feature a road running extravaganza. The 5k is an out-and-back with two turns each way and a turnaround, while the 10k is alllllmost a figure-8, but with a single turnaround point as well. There is also a brand new 4-mile walk for those who aren't interested in running – or perhaps other family members who are looking to do a little something while waiting for you to finish.
Afterwards, the race gives out prizes to the top 3 runners in each division (by age and gender), as well as a random drawing for prizes that includes the awesome  Scandia Run Quilt grand prize (stick around as you must be present to win).
The run is helping pay off the brand new track at the high school that was put in last summer.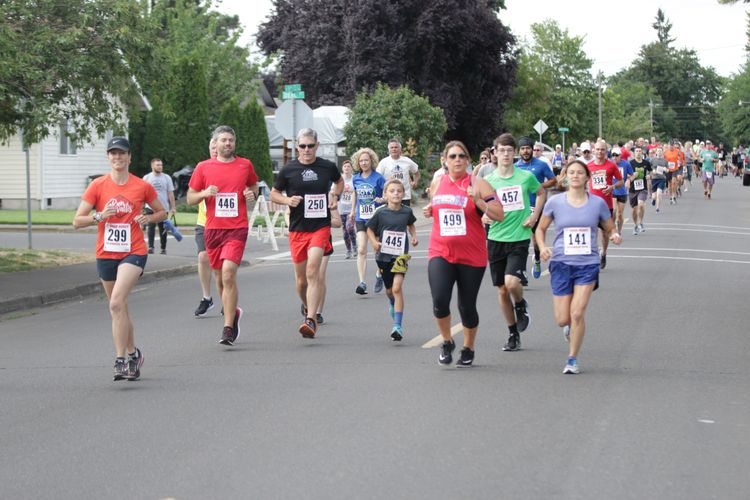 Scandia Run (Junction City)
When: August 10, 2019 at 8am
Where: Day Memorial Park (5th and Deal)
Register: Online here; $20 (add tech shirt for $10)