To Sleep or Not to Sleep: A Run Oregon review of sleepwear from SAXX and Under Armour
It's no surprise that we spend a third of our lives in bed, yet it sort of catches me off guard every time I stop and think about it. As runners, we are so focused in our mileage, routines, and groups that it's sometimes easy to forget that we should really be investing on making sure our sleep is as solid as we can make it. There are so many articles and posts out there about runners needing good sleep to optimize their performance – and just generally feel better all the way around. Runner's World has an old article that said this:
It's during the third and fourth stages of a typical sleep cycle when a body heals itself. That's when the human growth hormone (HGH) is released from the pituitary gland. Although it's gotten notoriety as a performance-enhancing drug, in its natural form it plays a key role in building and repairing muscle tissue and bones, as well as acting as a catalyst for the body to use fat as fuel. Without the right amount of HGH in the blood, recovery from workouts is hindered, prolonging the time it takes the body to build a strong aerobic engine.

But what if you're not getting to those stages appropriately? Obviously, your performance will suffer. There could be a variety of factors that contribute to lack of sleep (late night runs or diet, for example), but a lack of a good and comfortable bed is also something that could be holding you back as well.
Up until this winter, I had generally been wearing old basketball shorts and tee-shirts to sleep in. However, be it age or fatigue or some other factor, I found myself struggling with being comfortable and getting good sleep throughout the night. We are probably in the market for a new mattress relatively soon, but I also thought it would probably be a good idea to upgrade in the sleepwear department. With the new year giving way to earlier days (I am now up at about 445a most days), I decided I needed to do everything I could to maximize my comfort and ensure I am getting a good night's sleep.
As a result, I recently received a few pairs of sleepwear items to try – the Sleepwalker Pant by SAXX, and Athlete Recover Sleepwear from Under Armour.
---
The Sleepwalker Pant by SAXX is a super casual take on sleepwear. They fit loosely through the seat and legs, making it a perfect pair of pants to both lounge around in and sleep in. They are super light, made of premium Modal™, and are ridiculously soft. These pants are almost as if I have nothing on when I'm walking around – they are that comfortable. They don't come equipped with the "BallPark Pouch" that SAXX underwear is often known for, but I think this is for the better. I find myself immediately putting these on after work or after a long weekend run to just relax in. They come in three color/style options:
Charcoal Heather
Black
Red Patched Plaid
Products: 
Sleepwalker Pant ($65)

Moisture-wicking Modal fabric (96%); Spandex (4%)
1 1/4″ elastic band
More about SAXX:
Originality often times means being first and SAXX's heritage of revolutionizing underwear goes back 10 years. In 2006, Trent Kitsch was on a fishing expedition and after spending hours in a cold, clammy ocean suit he knew there had to be a better way to protect his package from chafing. A former baseball player, he imagined a catcher's mitt hammock design and turned it upside down in his mind. After the fishing trip, and with the hammock idea still percolating, he worked with a seamstress and designer — and himself as the fit model — to create a paneled fabric hammock that separated his balls from his legs. Fourteen prototypes later, the BallPark Pouch™ and SAXX Underwear were ready for action.
---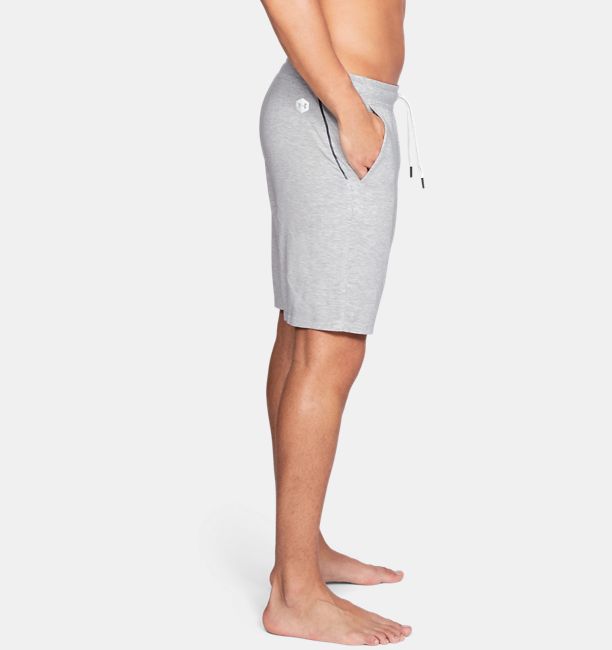 Moving on from the more casual SAXX option onto super technological is the Under Armour athlete recovery sleepwear. I'll be honest, when I first read about "Far Infrared" sleepwear for tissue recovery, I was a little…skeptical. I mean this stuff goes over my head and just wearing clothes with infrared in the descriptor seems a little far-fetched. However, this doesn't appear to be fully rooted in magic fairy dust, as there is an NIH independent study that showcases the positive effects Far Infrared has on energy and recovery.
As far as I can tell, this isn't some weird baseless claim, but there is actual testing and data that showcases this as a positive. The bioceramic print on the inside of the clothes claims to absorb natural heat and reflect Far Infrared back to the skin, which in turn will help wearers sleep a little better and increase blood flow to recover faster.
I have recently been trying out the 3/4 Sleeve Henley Shirt, Men's Shorts, and Men's Pants.
First of all, the fit is quite nice. They are all super soft from the Modal construction and very comfortable to wear. These are the sleepwear that made me glad to get rid of my basketball shorts and ratty cotton tee shirts. They fit a little tighter to your frame – not compression, but still a bit more snug than loose. However, there is more than enough stretch to not feel constricted. I have fallen in love with the shorts and am planning on investing in another pair in the near future.
Speaking of investment, these clearly will be one. Though the Henley top is currently on sale, these all run on the high-end of sleepwear – regularly running up to the $100 mark, give or take.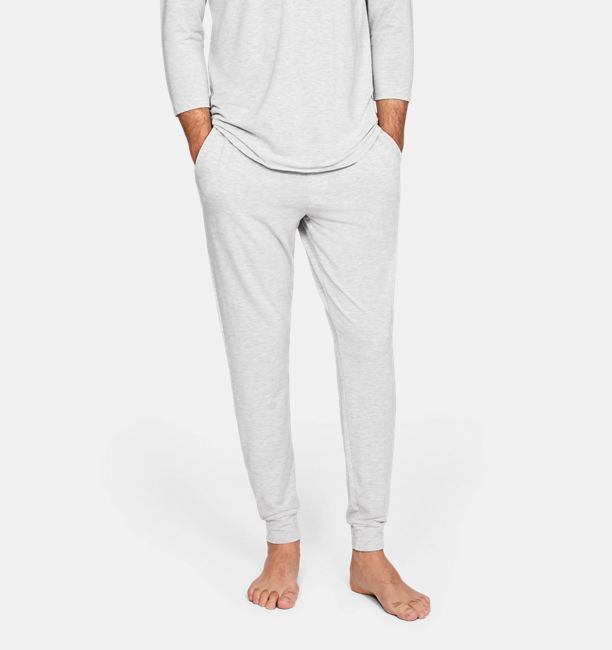 I won't say that I have a completely finalized thought on the technology (I probably need to do a lot of testing to fully determine the success of this), but I can say that these are comfortable and I am sleeping quite well in them. I do feel a little less sore (I think), but my analytical mind worries that this, even with apparently sound research, may still be the placebo effect at play. However, these may just be worth the investment to give these a shot if you are a serious runner looking to get a leg up on others. Worst case scenario, you have a really awesome looking and feeling pair of PJ's.
Company: Under Armour (Facebook)
Products: 
3/4 Sleeve Henley Shirt ($60)

91% Modal/9% Elastane

Flat lock seams

4-way stretch construction 

Sweat-wicking and quick drying wicks sweat & dries really fast
Men's Shorts ($90)

91% Modal/9% Elastane

Inseam: 10″

4-way stretch construction 

Sweat-wicking and quick drying wicks sweat & dries really fast

Hand pockets

Faux fly
Men's Pants ($110)

91% Modal/9% Elastane

Inseam: 30″

Tapered leg fit

Sweat-wicking and quick drying wicks sweat & dries really fast

Hand pockets

Faux fly
More about Under Armour sleepwear:
The key to Athlete Recovery Sleepwear is the Far Infrared print inside. Far Infrared is a type of energy on the infrared spectrum that benefits the human body. We've harnessed these benefits to help you recover, even when you're resting.
---
Thank you to SAXX and Under Armour for providing us with sample items. Please read our transparency page for info on how we do our reviews.