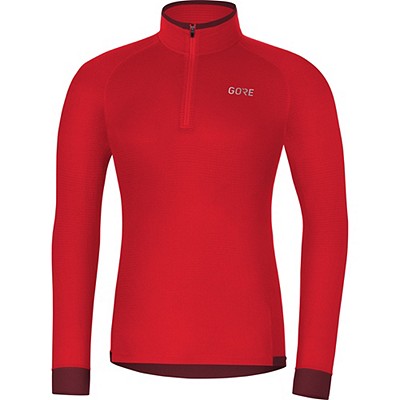 Matt: I try to hold out off on switching over to long sleeved tops until the very last minute. I think that making this change subconsciously makes me realize that the ideal running weather (to me) is behind us and the long, dark, and wet runs are staring me in the face for the next few months. I have recently come to grips with this and kicked things off with GORE's Thermo Shirt Light – a super soft and comfortable long sleeve top that seems like it will keep things at least a little more manageable this winter. This LS has a little bit of thickness to it, yet not enough to slow you down or weigh you down. It does however, seem to keep me warmer – with their "Polartec Power Grid", as well as a high and close fit collar to keep the warmth from escaping faster than it needs to.
It fits close to the body, but not so much that it's restricting or similar to a compression top. The front includes a quarter zip, to allow for a little cooling if need be, and the sleeves have elastic so it fits tighter around the wrist . It also looks great. It actually took me some debate to determine if I wanted to use this as a running top or just add it to my rotation of casual fall and spring LS tops. It's just a sleek item that can double up, regardless of what you may initially choose.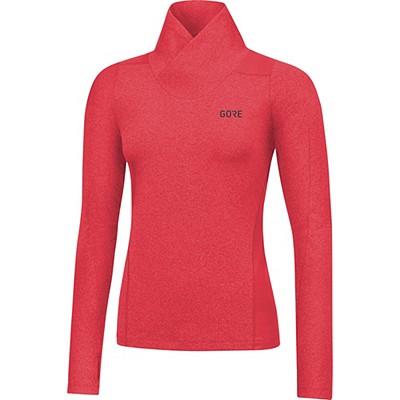 Meg: Taking the top out of the packaging, my first impression of the Gore R3 Women Thermo Long Sleeve shirt was just how cozy it felt. In fact, I changed my planned clothes for the evening to wear it instead because our Pacific Northwest fall had finally hit. Two-toned blue colors are visually appealing, and the unique neckline and sleeves with thumb-holes had me feeling comfortable throughout the evening. The shirt also worked well during a walk when my body temperature increased a little bit from the exertion, but I still needed some help in keeping warm in the wind. Last but not least, I of course tried this new top out during an early morning run when it was about 45 degrees outside. I felt comfortable at the start of the run, but after seven miles was feeling cold from some retained sweat on the high neckline. The fabric that was so great in keeping me warm did not allow for sweat to wick through as much as my running temperature needed. After a quick wash, it'll be ready for use in many walking and warm-up recovery situations this fall and winter.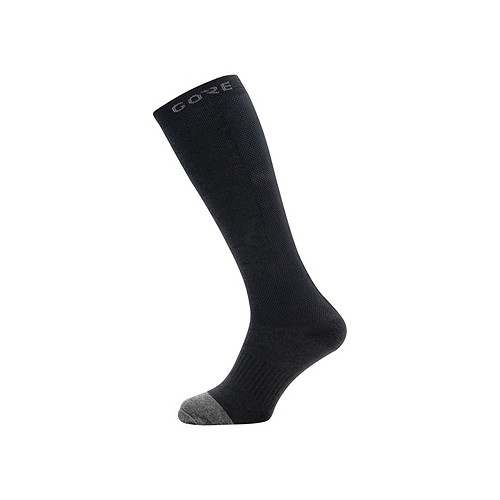 Matt: I am not usually a fan of tall socks – I stick with ankle or lower usually. I don't really know the reasoning behind it except preference, but I think a small part of it is that the work it takes to put on a pair of long socks is not worth the hassle. First world problems. But Gore's Thermo socks were probably the only pair of tall socks that I have loved immediately out of the gate.  They were't a pain to put on, and they were surprisingly well-supported and soft, while still feeling structurally sound. Chalk that up to a Merino Wool mix, with brings that warm insulation without feeling overly thick (though I still found them bulkier than other options I have tried – and I like it!). My first run in these was a 13 mile training run in wet conditions, and these absolutely held up to the challenge. In addition to my feet feeling warm throughout the rain, I honestly felt I had less soreness in my feet and calves both during and after the run. Typically, I get some calf soreness around mile 4-5 that will dissipate over time, and my toes start feeling off at around mile 11 – and neither occurred during the wearing of these socks. Considering I was running in old running shoes, I am chalking it up to the Thermo socks. They have some other cool features as well:
Comfort mapping construction uses specific placement of fabric for ultimate comfort
Toe and heal protection
Achilles tendon protection channel
Grip band around midfoot to keep sock in place
Designed for optimal comfort with less seams
Meg: I am so consistent in my running socks that during the summer I get a line around my ankles that looks more like dirt than tan. Once I find something that works, I tend to just get into a rut so it's good when an opportunity literally drops on your doorstep to try something new. And wearing socks that almost reached my knees was definitely brand spanking new.
The Gore M Thermo Long Socks promised insulation, padding, and toe / heal protection. And after trying them out on some recently chilly runs, I can affirm all of those promises as coming true. I ended up wearing them under tights as an extra layer against Portland's recent cold snap. The insulation helped me feel comfortable from the start but not overheated during the run. They're also comfortable for around the house with some extra padding that is nice for after a long run when your feet are a bit tender. It was a bit tough to get them off when I was sweaty post-run, but that's a small price to pay for socks that stayed up the entire time. They won't help with my summer tan line issues, but will be the new go-to for anything in the low 30s or below this winter.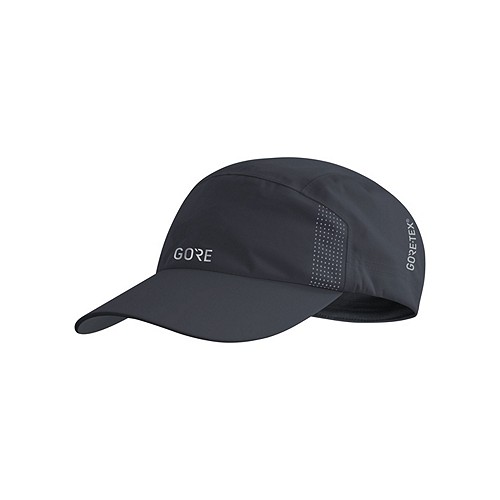 Matt: As a former baseball player, I have a lot of hats. This has only recently started to morph into my running as well. The Gore-Tex waterpoof cap may be a bit of an investment at $50, but it has all the qualities that a runner in the PNW will love. On GORE's scale, it is at the highest level of waterproof and windproof that they offer, as well as being right up there in breathability. I have worn this on multiple rainy days and it definitely performs as advertised. It has a reflective logo, perfect for those dreary and wet morning runs this winter, as well as an easy adjustable back (a problem I have come across with some running hats).
Meg: Thanks to a generally sweaty head, I always run with a beanie or bandana. No matter if it's two miles in the neighborhood or an ultra-marathon, there is something holding back my hair and the glow / sweat of a good workout. So it's pretty shocking that I've never run in a billed-hat before. My first time out with the Gore-Tex waterproof cap was also my first fall rainstorm. The bill was a great length to keep raindrops off my face; making me realize why so many smart runners around me have been running in hats all these years. The fabric is soft, light-weight, and dried quickly from our hour in the downpour. My one struggle is I kept pulling on the back, wishing there was a little more depth to the coverage. During a run near sunset, I was glad to have the reflective markings on the front the keep me feeling just a bit safer as I raced the sun to get home. Overall, I will definitely be pulling this cap out for rainy runs, and using my other options when its sunny or frosty out. Always good to have another tool for the running toolbox.
---
Company: GORE (Facebook)
Products and Price:
More about GORE:
We strive to push the boundaries of fabric technology, through a never-ending process of improvement.

You can see our commitment to this process in the engineering of our prototypes, right through to thoughtful details in the end product. Once we have developed a product as far as it will go, we just keep on going.

People are at the core of this evolution. Every GORE® product is the result of integral partnerships.

We collaborate with professional athletes to research, to develop and to test function-first apparel that sets new standards in comfort and protection.

We innovate so that you can experiment more. So that you can take on the elements, push your performance, and challenge your limits.

Together, we embrace our shared commitment to continuously improve,

TOGETHER WE #ALWAYSEVOLVE
---
Thank you to Gore for providing us with samples. Please read our transparency page for info on how we do our reviews.