Kegs & Legs Partnership: Oregon Brewery Running Series & Laurelwood Brewing (check out the race on August 11th)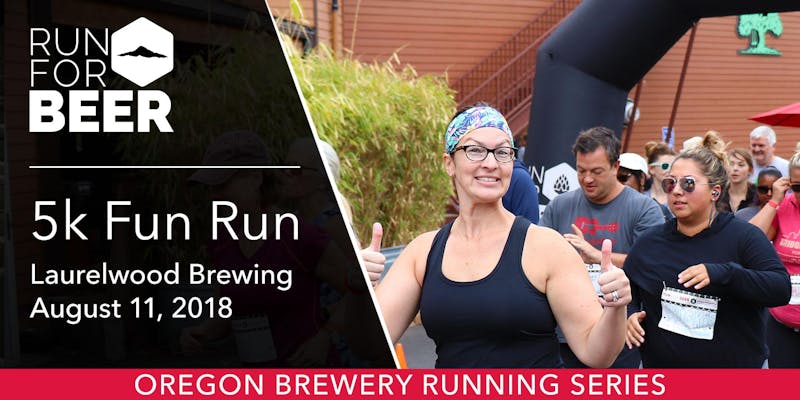 I love beer. After now having visited over 400 different breweries, it's fair to say I have sampled a lot of beer (follow me on Untappd). From post-race pints and run club meeting locations, to beer miles and relays, running and the kegged nectar seem to go hand-in-hand in Oregon. Our Kegs and Legs feature is where beer & cider drinking runners like me can go to find some new favorite beverages. Check out previous posts here!
Coming up THIS WEEKEND is race number 14 of the 2018 Oregon Brewery Running Series – held at Laurelwood Brewing in Portland. Here are some highlights from our race preview:
If there's anything that will motivate my husband to run, it's the promise of a cold beer. On August 11th, he and I will be getting both when we go to Laurelwood Public House & Brewery for one of this summer's 5k Fun Runs in the Oregon Brewery Series.

Due to the fact that this is a casual 3.1 race, streets are not closed down and routes travel through parks and along trails and sidewalks. There are awesome volunteers out there to cheer you along, but please do follow the rules of road, as you are responsible for your own welfare.

If you are new to the Oregon Brewery Series, please be sure to be prepared! Arrive 30 minutes prior to the race to get checked in, bring a valid ID if you wish to enjoy the celebratory beer, and come ready to run as there won't be a bag check. Bring some extra money if you wish to purchase food, drinks (other than your one complimentary beverage,) or any Oregon Brewery Running Series merch.

There is a parking lot across from Laurelwood Brewing but you might have better luck parking on the street nearby. Carpooling is always encouraged as well as having safe designated drivers.

Laurelwood Brewery is a great brewery with fantastic beer, and me and my husband are looking forward to an afternoon without our kids to enjoy this event! Registration is limited so come on out and do it!!
Laurelwood, to me, is one of the long-term staples in Portland. It was initially opened in 2001 and has a feeling of a family-friendly neighborhood pub and restaurant. They operate under the mantra of "A Place Where Friends and Families Meet" – something that a father of three young daughters can appreciate. Some beer drinkers tend to avoid pub/restaurants as it can be seen that a focus of attention away from solely beer producing gets in the way of quality. That's definitely not the case with Laurelwood, as they put out some fantastic beers. Their Workhorse IPA was one of the first craft IPA's I ever tried, and it's consistency and quality is one that I come back to every year and am still impressed by.
I recently stopped by their NE Portland location and they also have some great options on draft. I especially loved their Yaas Peach, a milkshake IPA that was super flavorful (200 lbs of peach puree from Oregon Fruit) and would be delicious after a long run. I ended up taking home a few crowlers as well – IRA Glass (clever, for all you NPR-nerds out there) and Who Let the Pogs Out.
IRA Glass is, unsurprisingly, an India Red Ale. It's actually similar to one of their classic beers – Red Elephant  – with the same base recipe being utilized. However, new hop varieties are tossed in, creating a bit more citrus. I can be hit or miss on IRA's, but I actually really liked this one. It's pretty dang smooth for an IPA – a nice combo between the hops and caramel sweetness that doesn't sacrifice flavor.
Who Let the Pogs Out is, also unsurprisingly, a wheat beer with tropical (P)assionfruit, (O)range, (G)uava flavors. My wife and I just scheduled a trip to Maui later this year and now I want to figure out how to bring this along in our luggage. It just tastes like the beach without being overpoweringly sweet. And at 5.3%, it's a worthy option to add post-run.
Laurelwood has three locations spread throughout the city:
NE Portland (on Sandy Blvd) – RACE LOCATION
SE Portland (on Milwaukie)
PDX Airport (Concourse A)
Don't forget to check them out at the upcoming Brewery Running Series event, or just stop in the next time you need a lunch or dinner outing!