Kegs & Legs Partnership: Run on the River Half/10k/5k & Buoy Beer Company (Drink Buoy IPA, Cream Ale, and Czech Pils at the race on May 20th in Astoria!)
I love beer. After now having visited over 390 different breweries, it's fair to say I have sampled a lot of beer (follow me on Untappd). From post-race pints and run club meeting locations, to beer miles and relays, running and the kegged nectar seem to go hand-in-hand in Oregon. Our Kegs and Legs feature is where beer & cider drinking runners like me can go to find some new favorite beverages. Check out previous posts here!
Coming up THIS WEEKEND, is the Run on the River Half/10k/5k in Astoria and sponsored by Buoy Brew Company. We thought it would be fitting to showcase some on the week leading up to the event to know what will be on tap! This week's beers are the IPA, Cream Ale, and Czech Pils – all staples in their lineup.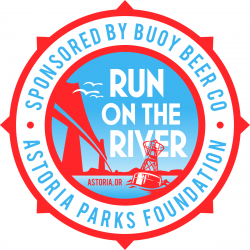 Here are some highlights from our race preview:
 The 5th annual Run on the River half marathon, 10k and 5k will be held at Astoria's Riverwalk on Sunday, May 20th. The event is organized by Astoria Parks and Rec department and is a fundraiser for Astoria Parks Recreation and Community Foundation providing scholarships for individuals and families to access health and wellness opportunities through Astoria Parks and Recreation.

All finishers receive a beautiful glass finisher's medal made by Fernhill Glass in Astoria. The finisher's party will take place at Buoy Beer, where finishers can feast on a seafood boil and beverages. Have your ID with you if you'd like a beer. There are non-alcoholic and gluten free options available as well. Awards ceremony will take place at noon.

Run on the River details:
When: Sunday, May 20, 2018
Where: Astoria Riverwalk (Map)
What: Half marathon, 10k, 5k
Registration: Online here
Registration cost: Half – $80; 10k – $50; 5k – $35 (Prices will increase April 24)
Registration includes: Chip timed race, event shirt, finisher's medal, post race food and drink at Buoy Beer Company
I think that Buoy has one of the best brewery locations in Oregon. Their taproom and restaurant sits right on the mighty Columbia and has some absolutely fantastic views.
The Buoy IPA has been one of my favorite NW IPA's for a while. It's flavorful and welcoming, and comes withouth the bitter bombing that can come with certain IPA's . I found that it has a little bit of a citrusy finish – just a tad without conterbalancing the bitterness.
I am starting to come around to Cream Ales more and more, and I find myself enjoying them more after a workout or when the weather starts to get warmer. The Buoy Cream Ale is a nice venture into the styling and one of the more smoothe versions I have had. It doesn't linger on the palate and really feels like it needs to be consumed in the sun (and/or on the beach!
I have mentioned it a few times in reviews before, but Pilsners, while not my thing most of the time, can be really tasty when done right and are a good light option after a race. I find the Buoy Czech Pils is a little more complex with its traditional roots in the historical Czech Republic styling. I think I like Buoy's styling more than even traditional pilsners
Beers:
Brewery: Buoy Beer Company (Facebook)
No. 1 Eighth (8th) Street, Astoria, OR 97103

Sun-Thurs / 11AM – 9PM
Fri & Sat / 

11AM – 10PM