What Run Oregon is Wearing: Gore R7 GORE-TEX Shakedry Jacket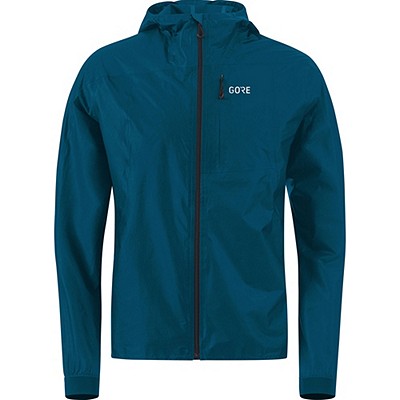 Being that the PNW is considered a temperate rainforest, we see a lot of rain and wind with our somewhat chilly temperatures in the fall, winter, and spring. Picking gear before a run requires factoring in potential weather conditions and the length of time you will be outside. Most of us have probably experienced runs with rain, sleet, wind and temperature variances up to 20 degrees on the same workout. With the normal varying early spring weather that we experience in the valley, this was a great time to use a Gore R7 GORE-TEX Shakedry jacket from GORE Wear.
This was news to me, but the most striking part of this jacket is actually the color. Due to the processes used to create this jacket, they used to only be available in black. When considering safety while exercising outdoors, this is obviously not an ideal color, and would have to be paired with some sort of visibility gear. Now they can be manufactured in blue and grey as well. I received it in blue and it is a distinct color. With the Gore and Gore Tex logos in reflective schemes in several places, wearer visibility in darker conditions is possible. I would still recommend a vest or lights for optimum safety after dark.
Features (From the GORE Wear site)
Close-fitting hood
Face fabric wetting out allows to quickly flap the surface dry
Revolutionary membrane construction eliminates face fabric preventing a chilling effect
Durably waterproof and windproof
Weight 118 gram (Size L)
Exceptionally lightweight
The lightest and most breathable GORE-TEX® Active Product available
Minimal pack volume
GORE-TEX® Active Product: Lightweight, extremely breathable, durably waterproof and windproof
Front zip pocket doubles as a stow-away pocket
GORE-TEX® Active Jacket with new SHAKEDRY™ product technology
Reinforced hem for easier closure of zipper
Elastic hem
Zip tags for easy opening
Front zip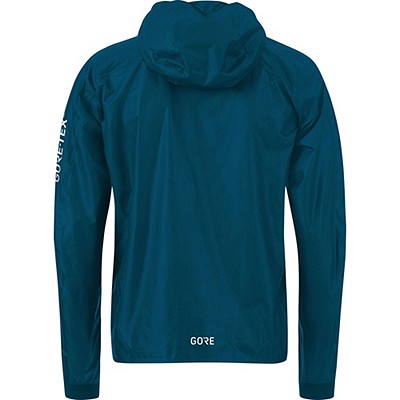 We all know the classic idea of a magician pulling an impossibly large scarf or rabbit from a hat. I had a similar experience when receiving this jacket. For a full size jacket, not only does it fold into a very small package, but the weight is unbelievable (the large is 118g). Literally weighing less than my phone, it proved capable of protecting the wearer from some less than ideal elements. The material feels like a cross between paper and a plastic bag, and tends to be smooth and cool to the touch. All of the zippers are small and simple, adding very little weight to the garment.
When it came down to actually facing the elements, I was quite surprised. Deciding to gamble a little, I wore only a tank top under the jacket on a breezy 5 miler while the temps were in the lower 40s. I wasn't pushing the pace which meant that my body temperature wasn't going to be increasing a great deal. In spite of the sporadic rain and the fact that if I had been wearing any of my other outerwear in this fashion I would have been chilly, I felt great. My tank top was completely dry and the wind did not cut through the jacket at all. I was very impressed.
I got in several runs with this jacket in varying conditions. Most windbreakers are not very porous, so they tend to get uncomfortable in warmer temperatures. The Gore jacket did a lot better than expected, still functional when temperatures reached the mid 50s. It definitely succeeded in minimizing the wind chill felt by the wearer and keeps them completely dry without restricting movement. It is fitted, and the medium size fit very well on my leaner frame. The sleeves had enough room for full movement but didn't feel baggy. As a whole, the jacket did not swing or create any weird sensations of movement as a result of the fitted cut and it's inability to gain weight by soaking up water.
The Gore-tex jacket with Shake Dry technology is great for training runs and the usual pre and post race runs. At times when the conditions are less than ideal, staying dry and warm is key to a good performance and maintaining overall health. Being able to take care of those needs without hauling around several pieces of gear or a bulky jacket is very helpful.
Company: GORE Wear
Product: Gore R7 GORE-TEX Shakedry
Cost: $299.99
---
Thank you to GORE for providing us with a sample item. Please read our transparency page for info on how we do our reviews.