Race Preview: 2018 Shamrock Run 5 Mile (Central Point)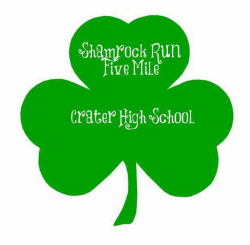 The Southern Oregon Runners once again bring you the Shamrock Run Five Mile in Central Point. This 5 mile race starts and ends on the track at Crater High School and runs along the newly extended Bear Creek Greenway, which promises to be a more scenic, safe course. Wear your festive green for the Shamrock 5 Mile and bring the kids for the free Leprechaun Lap right before the main event.
Awards will be given to the top 3 in each age group. Divisions will include wheel devices. Please be advised – there are no strollers, bikes, skateboards/skates, dogs, or headphones allowed on the course.
Shamrock Run Five Mile Details
Date: Saturday, March 17
Times: 9:00 A.M. – 5 Mile
8:50 A.M. – Leprechaun Lap
Location: Crater High School, 655 N 3rd St, Central Point
Entry Fees: $20 (through March 11)
$15 – Southern Oregon Runners members (through March 11)
$7 – Ages 17 and under
$25 – after March 11
Race Website: Click Here