Make a Day of It: Christmas in the Garden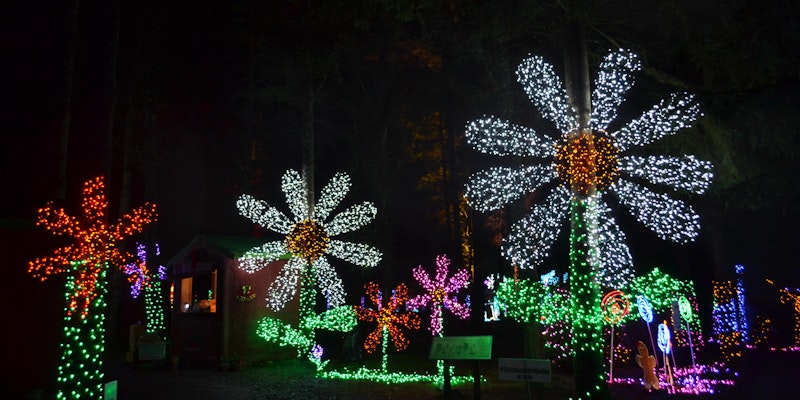 Run Oregon loves running – that's no surprise. But we also love the Pacific Northwest and all that it has to offer. Running is a part of us, but it does not fully define us. In our new "Make a Day of It" feature, we aim to showcase some great local non-running events and highlight where to run and how to make the most of your experience!
This installment of the series is Christmas in the Garden.
First the running:
Silverton has a variety of races both in town and on the trails of Silver Falls State Park throughout the year. If you want to get in a run before your visit to Christmas in the Garden – due to its seasonal nature – I would recommend heading to the trails of Silver Falls (for a run or hike) or meandering around the cute town of Silverton – but be prepared for hills either way.
Now on to Christmas in the Garden:
Christmas in the Garden is located at The Oregon Garden, " a stunning 80-acre botanical garden, featuring more than 20 specialty gardens showcasing the diverse botanical beauty of the Willamette Valley and the Pacific Northwest." A portion of the gardens have been decorated with 600,000 Christmas lights. There is also ice skating, snowless tubing, artisan vendors, fire pits, carolers, and Santa in the evenings through December 31. There are a variety of other events scheduled on various nights, and some during the day, so you will want to check the calendar for specifics on each day.
When heading to Christmas in the Garden, I would recommend going on a Wednesday or Thursday evening for lighter crowds and lower prices on admission. Regardless of when you go, allow for extra time as traffic can get backed up going through Silverton as you get close to The Oregon Garden entrance. (There is also off-site parking available with shuttle service. Check here for more information on parking.) On busy evenings, you may end up parking down at the bottom parking lots. If you have little ones with you, you may want to find the shuttle stop and take a shuttle up to the top. If you are up for a little hike, it might be faster to walk up to Christmas in the Garden – depending on how busy the shuttles are. However, the roads to the top are not lit, so bring a flashlight with you. As you near the top, there are Christmas lights along the sides leading you to your destination. At the top you will find a tent where admission tickets may be purchased and pre-purchased tickets are taken. If you want to enjoy the ice skating and/or snowless tubing, pre-purchase bundle tickets online to save money and ensure that those options are not sold out when you arrive. The website states that pre-purchased tickets offer expedited entry. While you will save money on your tickets if you purchase in advance, it was my experience on opening day that there was no expedited entry available for ticket holders. Hopefully this glitch has been corrected by now, as the admissions line can be quite long. (1-2 hours on opening day!)
While I did not try ice skating or snowless tubing at Christmas in the Garden, the lights are amazing. You can meander around for hours and enjoy the festive atmosphere and creativity of lights. I loved that you could walk through the lights and take as much time as you like as you take in the lights, grab a snack or a drink, or do a little shopping with some of the vendors. Just remember to dress for the weather, as everything is outdoors. If you are looking for a festive holiday event for the whole family, this is a family friendly setting that is great for all ages.
Times: Open November 24 – December 31
See calendar for specific days and times
Cost: Purchase tickets here
General Admission ticket prices range from $3-$13
Fun Passes range from $20-$30
Season passes range from $45-$55
Admission prices at the door range from $5-$15