Race Preview: 2017 Holiday Half & 5k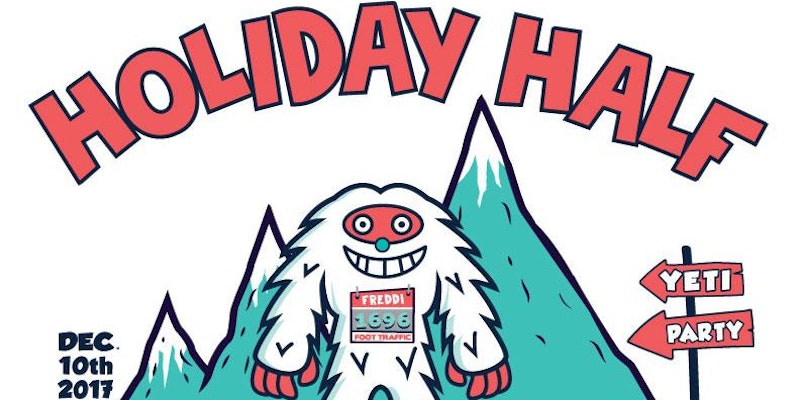 I've always been a bit surprised that there aren't more holiday races in Portland. You could blame the weather, but people come in droves for the Shamrock Run and that race is notorious for being rainy and cold. Races like Foot Traffic's Holiday Half & 5k, which is the biggest holiday race in the region, always put me in the spirit and this year, I'll be out there in my warm running gear on December 10th. A portion of the race proceeds will go to a variety of local non-profits via Foot Traffic's RUNdraising efforts, so 'tis the season to give something back as well.
Both the 5k and Half Marathon courses are out and back routes which start and finish at the Adidas North America Campus. This event promises to keep us jingling all the way with carolers and DJ's playing holiday music to keep you moving. The route is flat and scenic, with the Historic St. John's Bridge, the University of Portland Campus, and views of downtown Portland from the bluff of Willamette Blvd along the way. Both the 5k and Half will feature a special "Santa's Gingerbread Cookie" station where costumed people with platters of cookies will greet you to keep you motivated and smiling. You can view both the 5k and half marathon course here. There will also be a kid's 1k Dash which is a loop around the Adidas campus and it will be hand-timed (no results.)
Participants are strongly encouraged to take advantage of the shuttle service for this race. It's not required, but parking is very limited on race day and there will be no parking at the Adidas campus. The cost is only $6 round trip and you will get dropped off right at the start. Tickets to the shuttle will be available to all paces until 12:30PM on race day and race organizers will provide shuttle service back to Daimier (located at 4747 N Channel Ave, Portland) even after the large school buses have left. Check on the shuttle schedule here.
After the race is over, you'll have a seasonal craft beer from Deschutes Brewery waiting for you, along with some warm holiday soup, oatmeal from Umpqua Oats, coffee and hot chocolate from Don Fransisco's, egg nog, nutritional boosters and smoothie samples from Bob's Red Mill, and more. All finishers for all distances (yes, including the 5k as well as the Kid's Dash) will receive a festive finishers medal. The Adidas gym will be decorated for the holidays and you'll have a great spot for the post-race celebration. There will be vendors there with some freebies too. Holiday music brought to you by a DJ will also be waiting, so you can listen to some tunes while hanging out and you might even win some random door prizes. There will be costume contest competitions all morning long too!
All registrants that sign up for the race before Nov 10th will receive a long sleeve shirt (except for the Kid's Dash, which includes a shirt for just $10.) Shirts for this race are very popular and will no longer be guaranteed after November 17th (race will likely fill before race day,) so I would suggest signing up ASAP. I hope to see you out there!
Details:
What: Holiday Half Marathon, 5k & Kid's 1k Dash
When: Sunday, December 10th, 2017. Kid's Dash is at 7:45AM, Half Marathon is at 8:00AM, and 5k is at 8:15AM.
Where: Adidas N. America Campus (5055 N Greeley Ave, Portland.) Shuttle service strongly recommended.
Register: Here
Registration Cost: Half Marathon is $82, 5k is $44. Kid's Dash is $15 (additional $10 to include a shirt.) Shuttle Ticket is $6. Group registration is also available. Price increases to $90 for Half and $45 for 5k on race day.
Packet Pick-Up: 12/3 at Foot Traffic SE from 11:00AM-4:00PM, 12/7 at Foot Traffic Downtown from 11:00AM-6:30PM, 12/8 at Foot Traffic West from 11:00AM-6:30PM, and 12/9 at NE Foot Traffic from 10:00AM-3:00PM.