Race Preview: 2017 Run On the River 5K, 10K & Half Marathon (Astoria)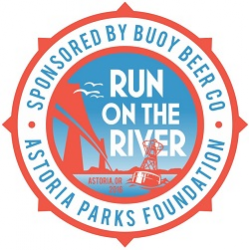 The 4th annual Run On The River Half Marathon, 10K, & 5K in Astoria is on Sunday, May 21st this year.
The event is part of the Oregon Half & Full Marathon Series and the primary sponsor is Buoy Beer Company. Accordingly, there will be post-race food and drinks next to Buoy Beer from 11 AM-1PM, so bring your ID! Runners and race volunteers will be treated to a seafood boil lunch and drink.
The race start times are:
8:30 AM: Half Marathon Walkers
9:00 AM: Half Marathon Runners
10:00 AM: 10K
11:00 AM: 5K
The half marathon boasts 7 aid stations, which will feature water, electrolyte drinks, and snacks. The 10K and 5K participants will be along the same route and will have access to aid as well. The courses will take racers across trestles, trolley tracks, and has great views of the river!
The start & finish line is at the 6th Street Viewing Platform on the Astoria Riverwalk, though parking is limited and participants are encouraged to park at the Aquatic Center.
Run On the River Details:
When: Sunday, May 12st; 8:30 am
Where: Astoria, OR
What: 5k, 10k, Half Marathon
Registration: Online here
Registration costs: 5k – $35; 10k – $50; Half Marathon – $85 (after 4/25 each entry increases by $10)
Registration includes: T-shirt, food/beverage vouchers, route maps, medals, aid stations, pre-post race festivities.
1st, 2nd, and 3rd place male and female winners in the 5K and 10K events will receive gift certificates (half marathon winners receive cash!).