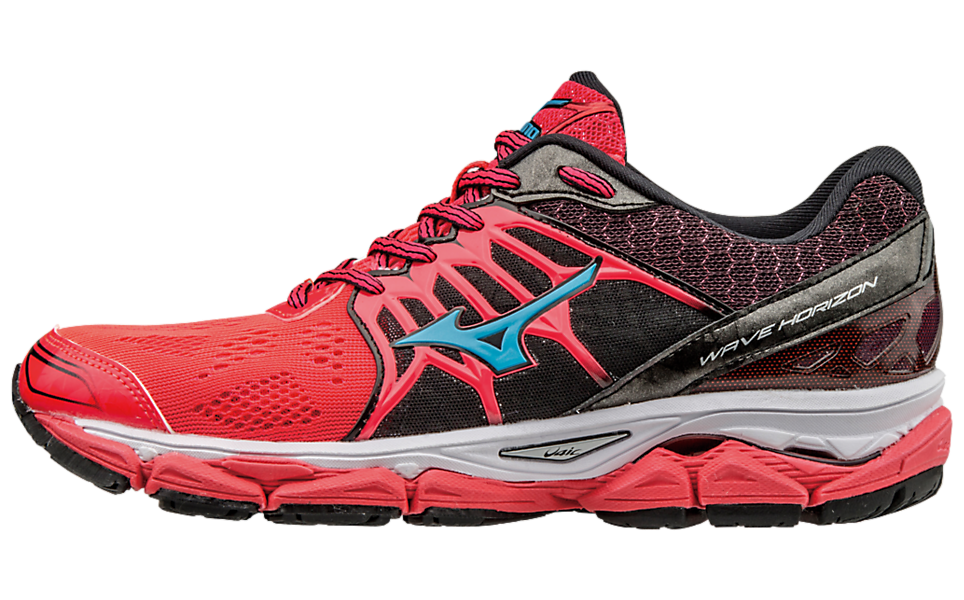 I'm not picky about much, but running shoes are on that short list. I'm on my feet a lot for work and I want to run forever, so I think it's especially important for me to stay selective with my footwear. I won't test just any shoe, mainly because I'm no longer in my twenties and my body reminds me of that when I'm not careful. If there's ever any question, I don't have a problem turning down a shoe test. Mizuno has been one brand that I've wondered about for years, but have never been gutsy enough to spend the money and try a brand I'm not sure about. I knew they had a great reputation, but wasn't sure if that would necessarily translate to proper footwear for me. All that to say, I was slightly hesitant trying a new shoe, even with Mizuno's outstanding reputation.
Fortunately, the gamble paid off. I found another shoe that my feet, knees and hips all approve of with the Women's Mizuno Wave Horizon.  I'm a heel striker and supinate like nobody's business and that hasn't changed, but my body has been happy and that's really what's important for me. I usually run in a stability shoe and the shoes in my rotation were well under retirement mileage during this test. However, my first run was luxurious, for lack of a better word. It made my other shoes feel like they had no cushion or support in comparison. They were beyond comfortable with plenty of support in the heel, which is where I really need it.
The toe box was wide enough, which is too often not the case. The older I get, the more my feet seem to spread and I need shoes with enough room so my toes don't go numb or rub to the point of blisters. They are wide enough to be roomy while still keeping a snug enough fit that your toes don't wiggle around.  The mesh material is breathable and dries super fast. I accidentally stepped into a huge puddle during a nighttime run and between the shoes and good socks, it didn't put a damper on my run. My foot stayed warm enough, which almost never happens and the shoe was pretty much dry by the end of my run.
I loved these for my shorter 5-6 mile runs and was equally pleased with them during my last half marathon. My feet stayed happy, my knees and hips didn't complain and I credit the shoes. They provide a solid base, offer enough cushion and are super comfortable. I'm glad I wasn't too picky to test these out because I absolutely love everything about them except the design. I like a plain black running shoe that I can wear with everything, which are super hard to find. Considering that's the only area I could find room for improvement, I'd say these shoes were a good find for this heel striker. If you're looking for a quality constructed stability shoe that still allows a good response, check out the Mizuno Wave Horizon. I wish I had tried them sooner, but better late than never.
---
Product: Mizuno Wave Horizon
Cost: $159
Specs:
New Mizuno cloudwave technology combined with our fan-shaped geometry for a soft and stable ride.
Full length and articulated U4icX midsole for a softer and smoother feel underfoot.
U4icX strobel layer under the sockliner for more comfort.
New U4ic midsole compound for more response and long lasting cushioning.
Mizuno DynamotionFit: 3 panel construction with sock-like midfoot construction.
New triple zone engineered mesh delivers a disappearing fit.
Stack height: 33mm heel- 21 mm forefoot.
Drop: 12mm.