Southern Oregon Turkey Trots: So. Oregon Turkey Trot on Thursday and Moore Park Turkey Trot on Friday
Whether you are heading over to Southern Oregon to hang out with friends and family for Thanksgiving or just looking for something to do, you won't want to miss these two events: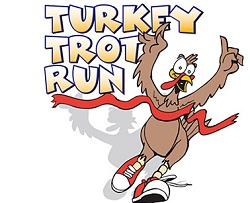 11th Annual Southern Oregon Turkey Trot ( 2 miles, 8 miles, and Turkey Dash)
Start off your Thanksgiving morning by earning a custom made finisher's medal at the 11th annual Southern Oregon Turkey Trot, located in Central Point Oregon.   Due to past popularity, everyone will take one home, but age group awards will not be awarded this year.  Be sure to join in on the fun starting at packet pickup on Wed. Nov 23 from 12:00 pm – 8:00 pm at the Jackson County Fairgrounds Expo Park in the Padgham Pavilion.  There will be two free giveaways, while supplies last.  T-shirts will be available to pre-registered runners (registered by Nov 20th) for $12.
When:  Thursday, Nov. 24
6:30 am- Day of Race Packet Pickup
7:45 am- Turkey Dash (ages 5 and under)
8:00 am-  8 Mile Run
8:30 am- 2 Mile Run
Where:  Jackson County Expo Fairgrounds (1 Peninger Rd. Central Point, OR)
Registration:  Turkey Dash for ages 5 and under is free with a canned food donation.
Click here for fee schedules and to register online,  as SOR members will pay $5 less.  There is a family group rate special available on the website, as well as a youth rate for runners age 17 and under.
Website: Southern Oregon Runners
Moore Park Turkey Trot 5K run/walk
After you've had a night's rest to digest the festivities from the day before, hit the trails and enjoy this budget friendly and family friendly event.  Run or walk the 5K at Moore Park in Klamath Falls for $5 or bring an unwrapped gift to be donated.  All proceeds benefit Klamath Falls Mission.
When:  Friday, Nov. 25
8:00 am- Registration opens
9:00 am- Race begins
Where:  Moore Park (Lakeshore Drive, Klamath Falls, OR 97601)
Registration:  $5 or an unwrapped gift.
Website:  Linkville Lopers