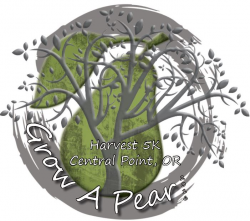 Help celebrate the beautiful fruit-bearing Rogue Valley with the Grow a Pear Harvest 5k slated to take place Saturday, October 8 in Central Point, Oregon. The race is in conjunction with the Saturday Market taking place in the park and is in celebration of the history of Pear Harvest in the Rogue Valley. Race proceeds will support The Parks & Recreation Foundation.
Race Day Schedule
7:15am – Registration cut off
7:45am – Check in deadline
8:30am – Harvest 5k (jog or walk) begins
10:00am – Awards & festivities begin @ Robert Pfaff Park
The 5k course will begin across Pine Street from the Pilot Travel Center in the Dirt Lot and proceed to the Greenway. Runners will travel on the Greenway to Upton road, and will then continue running on streets following signs to finish at Robert Pfaff Park. The course will be monitored and clearly marked.
Registration, which will be open until 7:15am race day, is currently $25 for those 13 year or older. Those 12 and under race free. Participants can also opt to register as teams of 2 (a pear) for $30, teams of 4 (a crate) for $60, or a team of up to 8 runners (an orchard) for $115. Tee Shirts will also be available at an additional cost and will have the 5k logo printed on the back. Shirts come in boys/mens sizes. (S – XXL) for a price of $10 (Childs) and $15 (Adults).
You can either register online here: ONLINE REGISTRATION or fill out a walk-in/mail-in registration form. The address for the walk-in/mail in registration form is Central Point Parks & Recration 140 S. Third St. Central Point, OR 97502.
Both the mail-in registration form as well as the course map can be viewed here: REGISTRATION & COURSE MAP
There will be two pack pick up opportunities:
Early Packet pick up, October 5-7 from 8:30am – 3pm at Central Point City Hall
Race Day packet pick up, October 8 until 7:45am at the Start Line (Greenway) and Finish Line (Pfaff Park). See course map for locations.
Come celebrate the Rogue Valley with a day full of running, food, contests, and a Saturday market.
---
What: Grow a Pear Harvest 5k
When: Saturday, October 8 at 8:30am
Where: Central Point, Oregon (start & finish locations indicated on course map).