Ah, the ugly Christmas sweater; typically varying in style, color, and material, but never failing to feature an abundance of quirky, tacky, and gaudy holiday themed designs. Over the years the ugly Christmas sweater has found its way out of the deep depths of the garage sale and donation boxes and made its way into our hearts (and onto our torsos). Those who manage to find the ugliest of the ugliest Christmas sweaters are praised, given many high fives, and are often lauded as the royal victor. If you happen to own your own ugly Christmas sweater and have been looking for even more opportunities to show it off, you're in luck because Oregon's Ugliest Sweater Run in Eugene on December 6 gives you a chance to race in your ugly sweater. Run in an ugly Christmas sweater? I think the better question to ask is, why wouldn't you?
Oregon's Ugliest Sweater Run will be a 5K fun run/walk with a course decorated in Christmas lights, garland, tinsel and all things Christmas related. It will also feature 12 stations, each representing the 12 days of Christmas. A live DJ will also be on hand blasting out all the greatest Christmas jams while carolers will greet you at the finish line. The race is set to begin at 11am sharp and will not be timed, which means zero pressure and loads of fun. The start line will take place at Alton Baker Park, while the finish line takes place at 5th Street Public Market after a quick jaunt over the Willamette River.
Registration from now until December 5 is $40 for adults and $15 for kids ages 6-14 years. Children 5 and under are free; strollers will be allowed on the course. Day of race registration will be limited and will take place from 8-10am. Group discounts are available as well with pricing information listed on the official race registration page, which can be found here. Dog lovers can also rejoice, as Oregon's Ugliest Sweater Run will be allowing racers to bring their four legged friends. Dogs may also dress up in their best ugly sweater but will need to be on a leash. All dog owners will be responsible for picking up any mess your dog might make.
*Please note that all race participants will need to fill out Oregon's Ugliest Sweater Run Waiver found here: Race Waiver.
Race participants will receive an "ugly" race bib to "match your ugly sweater." There will also be photo opportunities available along the course as well as a photo opportunity with Santa at the finish line. Blue Bus Creatives will also have an open air photo booth on site where they can take photos of you and your loved one's in your holiday race attire. You'll want to make sure to bring money if you choose to purchase your photos. 5K finishers will also be treated to one free hot chocolate, cider, or coffee.
In addition to the race itself, there will be pre-race and post-race events that you won't want to miss out on. From 10-10:45am race participants can join in on an attempt to break the Guinness Book of World Record for the "Largest Gathering of People Wearing Christmas Jumpsuits/Christmas Sweaters." The current record is held in London with 639 people. The race day attempt will take place at the start line at Alton Baker Park.
All post-race events are hosted by 5th Street Public Market and include:
An eggnog chugging contest from 12-12:15pm, a fruitcake eating contest from 12:15pm- 12:30pm, and an ugliest sweater contest (dog edition) from 12:30-12:45pm. The post-race contests will conclude with the human edition of the ugliest sweater contest from 12:45-1pm, where only the ugliest of the ugliest of the ugliest sweaters will prevail. The ugly sweater contest winners (1st place-3rd place) will be determined by crowd applause. Winners from all contests will be awarded with an assortment of prizes, many from the race sponsors. Pictures with Santa as well as Rudolph the Red Nose Reindeer will take place from 11am-2pm.
Event parking will be available at 500 E 4th Ave, Eugene, OR 97401. Parking is $5 per car or you can choose to bring in 5 cans of non-perishable food, to be donated to Food for Lane County or an unwrapped toy, to be donated to Toys for Tots and Foster and Adoptive Parent Association of Lane County. All of the proceeds from parking will be donated to the three charities mentioned.
Packet pick up will take place Thursday, December 3 from 12-6pm at the Sports Authority at the Valley River Center Mall. Race day packet pick up will also be available from 8-10am at Alton Baker Park. If you are unable to pick up your own packet, you may have a friend or family member pick it up for you.
If you're an ugly sweater owner, congratulations, you have found the beauty that lies within this garish garment. Oregon's Ugliest Sweater Run will give you the opportunity to show off your thrift store gem while at the same time, just flat out, offer a full day of non stop entertainment and fun for the entire family.
---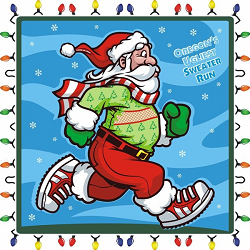 What: Oregon's Ugliest Sweater Run
When: Sunday, December 6 at 11am
Where: Alton Baker Park (100 Day Island Rd, Eugene, OR 97401)
Cost: $40 for adults and $15 for kids 6-14 years
Register here